Foreign trade tops US$1 trillion
By Zhang Jin (China Daily)
Updated: 2004-12-09 00:42
Foreign trade volume of the Chinese mainland exceeded US$1 trillion by the end of November, putting the nation on track to become the world's third largest trading power this year, Chong Quan, Ministry of Commerce spokesman, said yesterday.
But the country still has a long way to go before it becomes a "strong" trader, he said.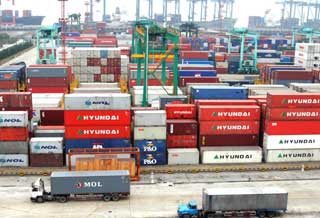 Trucks are busy transporting containers at a container terminal of the Shanghai Port December 9, 2004. China's foreign trade volume exceeded the US$1 trillion mark by the end of November. [newsphoto]

According to the General Administration of Customs, the mainland notched up a trade volume of US$1.04 trillion from January to November, with a surplus of US$20.8 billion.

Chong cited rapid economic growth and the recovering world economy as key factors that have pushed up China's foreign trade over past decades.

Reforms in China's trading market, increasing foreign investment and the WTO entry have also contributed to blistering trade growth.

China was the fourth largest trading power by the end of last year, behind only the United States, Germany and Japan.

Chong said China's booming trade is also conducive to helping other countries.

First of all, "it has buoyed the growth of the international trade, he said.

In 2003, China's foreign trade contributed 11.3 per cent to the growth of global trade.

China's exports benefit consumers in other countries and regions.

And the country's imports play an increasingly important role in pushing forward the world's economy and benefiting trading partners.

"At present, China is the world's third largest importer, soaking up one-fifth of Asia's total imports," he said.

In 2003, the nation's imports from the United States, Japan, European Union, Association of Southeast Asian Nations and South Korea surged by 24, 39, 38, 52 and 51 per cent, respectively.

However, China is far from being a strong trading power, given its meager per capita trade volume and the low competitiveness of its exports, Chong said.

Per capita trade volume in China stood at less than US$850, compared with the world's average of US$2,400.

The country's exports, with low added value, insufficient self-owned brands and sales network, are generally less competitive in the international market.

Moreover, China still lacks a batch of enterprises that are capable of participating in global competition and co-operation.




Today's Top News
Top China News

Market recognition benefits China-EU partnership




Foreign trade tops US$1 trillion




Polluting steel plants moving out




Government aims to fatten farmers' wallets




Industrial output slows down mildly




Oil firm chief in Singapore free on bail