Nike apologises for footwear ad in China
(Agencies)
Updated: 2004-12-09 15:33
Nike has apologised for a footwear advert featuring an attack on a kung fu master which was banned by China, saying it only intended to emulate the Hong Kong martial arts movie heroes of the 1970s.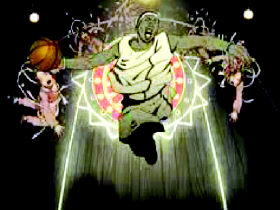 Two women in traditional Chinese attire are defeated by LeBron James in the commercial. [sohu]

China's State Administration of Radio, Film and Television on Monday ordered stations nationwide to stop broadcasts of Nike's "LeBron James in Chamber of Fear" ads that it said had sparked anger and claims of offending "national feelings."

The advertisement "violates regulations that mandate that all advertisements in China should uphold national dignity and interest and respect the motherland's culture," the State Administration for Radio, Film and Television said on its Web site Monday. "It also goes against rules that require ads not to contain content that blasphemes national practices and cultures."

The statement added: "The ad has received an indignant response from Chinese viewers."

In the advertisement, James, 19, a forward for the Cleveland Cavaliers basketball team, makes easy work of animated enemies including a white-haired kung fu master, two women in traditional Chinese garb and the pair of dragons as he ascends the video game-like levels of the "Chamber".

"Nike expresses a deep apology to Chinese consumers for their concerns about LeBron James in the 'Chamber of Fear' advertisements," Nike said in a statement received by Reuters on Thursday.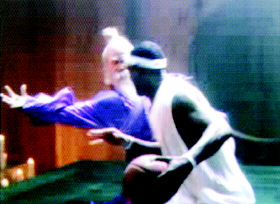 The Nike commercial shows the Cleveland Cavaliers' LeBron James defeats a Chinese ancient kung fu master. [sohu]

"The idea of the advertisement came from Hong Kong's Kung fu movies of the 1970s. Nike hoped it could encourage Asia youth to face their fears in basketball."

The television administration had said the advertisement aroused "strong public indignation" by violating rules that stipulated "all ads broadcast on television should protect national dignity and interests and respect the motherland's traditional culture".

Nike ads featuring James and resembling graffiti last month provoked controversy and protests in ultra-tidy Singapore.

About 50 people wrote to complain that the city's usually immaculate bus stops had suffered acts of vandalism after 700 of the posters went up, media said.





Today's Top News
Top China News

EU works on lifting of arms embargo on China




Policy makers weigh milder 2005 targets




'Gold collar' class expands in China




US GIs hit Rumsfeld with hard questions




Plan in pipeline for population problems




Nike apologises for footwear ad in China