Encouraging volunteers to give blood
(China Daily)
Updated: 2004-12-09 09:39
One year ago, Xiao Tong, a Beijing resident in his late 20s, donated his first 200 millilitres of blood in a voluntary blood collection van that was parked at the gate of Ditan Park.
Xiao is thinking of making another donation soon.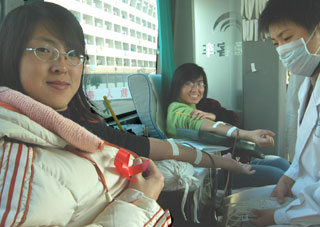 Volunteers form Liaocheng University at Shandong Province's Liaocheng donate blood. [newsphoto]


"I think I will donate blood again," said Xiao, who said he had no hesitation donating blood. "It is no big deal, it's just like giving other people a helping hand."

Xiao is not alone. The country has seen an increasing number of blood donors in recent years.

Statistics from the Chinese Society of Blood Transfusion show that 85 per cent of the blood used in Chinese hospitals is collected from donors.

Before the Chinese Blood Donation Law was implemented in 1998, donated blood only accounted for 22 per cent of all blood collected.

China is making efforts to ensure blood quality and quantity by advocating donations, Wang Yu, deputy director of the Medical Policy Office at the Ministry of Health, said at the Third China Blood Transfusion Conference in Shanghai in late October.

Under the law donors, who have won great respect from the rest of society, are able to receive free blood transfusions if needed.

Out of recognition, the Beijing-based Peking University has published the names of donors on its official website and records them in its yearbooks.

Legislators have taken several steps to ensure illegal blood sales are banned, which could prevent the spread of HIV/AIDS and other viruses, such as Hepatitis B, which can be transmitted through blood.

Since 2002, the central government has invested a total of 1.25 billion yuan (US$150 million), with another 1 billion yuan (US$120 million) from local governments, to rebuild the nation's blood collection and management system.

Volunteers needed

For a long time, blood donations in many cities were more or less organized.

Organized blood donation in urban centres started in the 1980s as a means of meeting local demand for blood at hospitals when the rate of donations was low.

The blood donation quota was distributed among a city's districts by the municipal government. It had to be fulfilled by government departments, enterprises and institutions in each district.

In order to encourage employees to participate in voluntary blood donation, many work units would give cash compensation as well a short paid holiday to donors.

At present, more than 60 per cent of Shanghai's blood supply has come from such donations rather than volunteers who receive no money or holidays.

Song Qi, an official with the Shanghai Blood Administrative Office, said: "Some well-run enterprises can pay compensation as high as 1,000 yuan (US$120) and give one or two weekdays off with the aim of encouraging and rewarding donors."

"But such compensation leads to some misunderstandings. People think blood donations harm their health and that's why they are given compensation and rest."

Last year, Shanghai began to change its quota system.

As the first university in Shanghai to promote voluntary blood donations, Shanghai Jiaotong University received 280 donors - more than twice the average.

"That was really a stirring scene," said Zhang Sanlin, a graduate student at the university. "Undergraduates who had just been dismissed from their morning classes quickly gathered around the blood collection bus to give blood."

The Ministry of Health has promised to enhance voluntary blood donations in three to five years to guarantee that at least 80 per cent of donated blood comes from volunteers.

Donors' concerns and blood safety

Some people worry that giving blood will harm them and leave them very weak.

However, medical experts disagree. Donating blood does not deteriorate a person's health as long as they eat well and get enough rest, experts say.

The human body replaces its blood volume, or plasma, within 24 hours.

And red cells need about four to eight weeks to be completely replaced after a donation of 200-400 millilitres of blood, said Yang Liangui, a doctor from the Beijing Military General Hospital.

An adult has an average 4-5 litres of blood.

Only 80 per cent of the blood circulates around the body with the remainder being stored in the organs, such as the liver and spleen, for use during emergencies.

People can donate blood again after four months, but the law requires people to wait for at least six months between donations.

Scientific research reveals that proper blood donations can promote metabolism and benefit some people's health. It can reduce the occurrence of heart disease, especially for men, Yang said.

Some people fear they might get AIDS during the donation process - many farmers in Henan Province were reported to have been infected with the deadly virus in the 1990s when they sold their blood to illegal blood collection stations.

Medical experts say people cannot get AIDS or any other diseases by giving blood via a standard donation system.

The items used to collect blood, including needles, are new, sterile, disposable and as such are used only once, medical experts say.

The Ministry of Health has urged local governments to set up strict inspections to ensure blood safety and improve management.

Four government departments, including the ministries of health and public security, jointly launched a task force in October to shut down disqualified or illegal blood collection stations across the country.

Fifty-two of them found to have poor hygiene conditions, fail to strictly check the medical backgrounds of donors or have been involved in illegal blood sales have since been shut down.

To guarantee donated blood is stored safely and used properly, a strict management system has been introduced, health officials said.

Special blood bags, which meet State hygiene and packaging standards, are used. And State standards have been created for the storage and transport of blood for clinical use.

Donors' personal information and their application information is recorded.

A universal problem

The voluntary blood donation system was originally introduced around the world during the 1930s.

Now, more than 90 countries and regions have such a system and all the blood needed by hospitals is supplied by volunteers.

A universal problem is blood shortages due to the lack of regular donors, Paul Strengers, secretary-general of the International Society of Blood Transfusion, said during the Third China Blood Transfusion Conference in late October.

Blood from repeat donors is preferred as it is easier to track their medical histories compared with people who only donate once, said Strengers.

In European countries, many regulars donate blood 10 to 15 times during their lives. They are safe and reliable donors who consider giving blood a moral obligation.

In Japan, many 20-year-olds donate each year after attending the ceremony for Adults' Day on January 15. The traditional festival has been used to promote voluntary donations.

In the Czech Republic, hospitals give men beer and women flowers after they donate.

Experts say China's medical authorities should learn from the successful experiences of other countries.

Jordan's Government has established a central blood bank that provides blood to everyone.

However, when people recover from surgery they need to donate blood in return or ask their relatives to donate for them.

In recent years, many countries - including the Untied States, the United Kingdom, France, Japan and Australia - have promoted autologous donations.

An autologous donation is when a patient's blood is collected and stored until needed, such as during surgery.

Experts say the local medical authorities should back the same format.

The advantage of this type of system is that disease transmissions and allergic reactions are eliminated. Usually, blood can be stored for up to 42 days at room temperature after being donated and if the transfusion is rescheduled beyond that period, it can be frozen.

Blood can be frozen and stored for up to 10 years, but must be transfused within 24 hours of thawing.





| | |
| --- | --- |
| | |
| China bans Nike TV ad as national insult | |

| | |
| --- | --- |
| | |
| 'Memoirs of a Geisha' posters released | |

| | |
| --- | --- |
| | |
| Diana video reveals desire to elope with lover | |
Today's Top News
Top Life News

EU works on lifting of arms embargo on China




Policy makers weigh milder 2005 targets




Expert warns of Olympic overconstruction




Plan in pipeline for population problems




Emission quota trading help cut acid rain




Oil leaks after ships collided near Shenzhen