First and youngest SARS volunteer tests negative
(Shenzhen Daily)
Updated: 2004-12-09 09:11
Shy and handsome, Lan Wanli, a 23-year-old postgraduate student at the Mathematics Department of Beijing University of Chemical Technology, was recently identified as the first person test the SARS vaccine.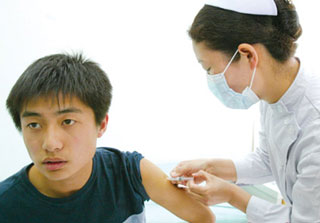 Lan Wanli was injected with SARS vaccine in Beijing, on May 22, 2004. [newsphoto]


Lan is among 36 volunteers who took part in the world's first clinical tests of the SARS vaccine on May 22, 2004.

He is also the youngest. Lan was the second to enter the lab among the first group of four that day, later it turned out the first person had been injected with a placebo.

Lan said he had received medical examinations many times before the injection because the research team required him to be healthy.

After the injection, Lan was put under observation for two hours in hospital. He was later required to return to the hospital for follow-up examinations four times before having the second injection 27 days later.

"I was given some money after each blood test to buy food so that I could recover quickly. I didn't expect that."

Lan said he lived a normal life after going back to university. He had no abnormal physical reaction.

"I am as healthy as I used to be. Before the injection, I only occasionally had a cold, nothing else. In the six months after the injection, I had two minor colds, but soon recovered," Lan said.

Before tests were made on humans, the vaccine had been tested on animals, and proved safe.

As the first volunteer to be injected with the SARS vaccine, Lan was confident of the test.

He had understood the risk involved before signing the agreement. He was relaxed when getting the shot so he hardly felt any pain.

"I believe researchers have fully considered the safety of the vaccine. Even if I caught SARS, medical workers would give me the best care available. And even if I died after the injection, it would be for my country. I would feel honored to do my part in the fight against SARS." said Lan.

Lan said he had discussed taking the tests with his best friends. "They all supported me," he said.

Lan's parents and elder sister in Weihai in Shandong Province didn't know the injection because he was afraid his family would worry unnecessarily. Lan told them about it during the summer vacation when he felt healthy.

"My parents are farmers. They aren't very educated, but they have good hearts. I believed they would be supportive even before I told them about the injection," said Lan.

Lan did not rush into his decision to take part in the vaccine test. He has always been enthusiastic about public welfare. He once visited children who couldn't afford to go to school in Jiangxi Province.

"When I saw them, I felt shocked. With a little help from us, these children's lives could be changed. I really hope I can do something to help people living in poor areas," he said.

Lan's university was sealed off during the SARS outbreak last year. He was isolated by the university's medical authorities as he had a fever. It turned out to be just a common cold.

From then on, Lan thought of doing something to combat SARS. "I felt lonely and bored during the five-day quarantine period. And I began to think about how those suffering from SARS must have been feeling really bad and isolated, in pain and with the prospect of possible death," he said.

"I just feel proud and lucky to be the first person to be injected with the SARS vaccine," said Lan.




| | |
| --- | --- |
| | |
| China bans Nike TV ad as national insult | |

| | |
| --- | --- |
| | |
| 'Memoirs of a Geisha' posters released | |

| | |
| --- | --- |
| | |
| Diana video reveals desire to elope with lover | |
Today's Top News
Top Life News

EU works on lifting of arms embargo on China




Policy makers weigh milder 2005 targets




Expert warns of Olympic overconstruction




Plan in pipeline for population problems




Emission quota trading help cut acid rain




Oil leaks after ships collided near Shenzhen