Snow to stay on with Bush, Principi exits
(Agencies)
Updated: 2004-12-09 09:03
US Treasury Secretary John Snow, an aggressive champion of the administration's economic policies, accepted President Bush's offer Wednesday to remain in the Cabinet.
Bush's decision kept an important member of his economic team in place as the president seeks to promote his second-term priorities of simplifying tax laws and overhauling Social Security.
At the same time, Veterans Affairs Secretary Anthony Principi told his staff he was resigning, a senior administration official said. Principi is the ninth member of Bush's 15-person Cabinet to leave. He is a graduate of the U.S. Naval Academy and a decorated Vietnam veteran.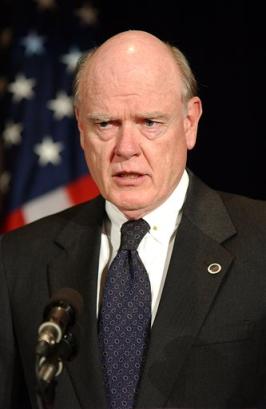 U.S. Treasury Secretary John Snow speaks to news media at the Waldorf Astoria in New York in a Sunday, May 23, 2004, file photo. President Bush asked Treasury Secretary John Snow on Wednesday, Dec. 8, 2004, to stay in the administration, and Snow agreed. [AP]

Rumors had swirled in the capital about Snow's future. Published reports said Bush would oust him. White House chief of staff Andy Card told Snow to ignore it all. While Snow was at the White House for a weekly meeting on Wednesday afternoon, Bush summoned him to the Oval Office to ask him to stay on.

"The president is pleased Secretary Snow agreed to continue to serve," White House spokesman Scott McClellan said.

"He's done a great job and has been a valuable member of the economic team, and we have a lot of important work to continue to build upon the steps we've already taken to get the economy growing stronger and creating jobs," McClellan said. "He's been an integral part of those efforts."

Bush has picked Kellogg Co. chief executive Carlos Gutierrez to succeed Don Evans at the Commerce Department but has not settled on a replacement for Stephen Friedman, the president's chief economic adviser.

Snow, 65, is the former chief of CSX, the railroad company, and holds a Ph.D in economics. McClellan said there was no limit on how long Snow would serve.

"The secretary is honored to help the president to implement his agenda to strengthen the economy," Treasury Department spokesman Rob Nichols said.

In February 2003, Snow replaced Paul O'Neill, whose blunt-talking style ¡ª and open reservations about the wisdom of large tax cuts ¡ª irked the White House.

Snow has proved a forceful advocate of the president's economic policies, notably big tax cuts, on Wall Street and Main Street. He took the post at Treasury when the economy and the job market were struggling to recover from the 2001 recession, the Sept. 11 attacks and corporate accounting scandals.

During the 2004 presidential campaign, Snow traveled constantly, especially to the most contested states, promoting administration economic policies.

On some occasions, his comments had repercussions.

In a visit to Ohio near the end of the campaign, he said the notion that job losses were Bush's fault was a myth. That became fodder for a political ad for Democrat John Kerry.

On a different trip to Ohio, Snow reignited the political argument about the shift of U.S. jobs to other countries, saying that that practice was an integral part of a global trading system.

Snow's comments came against the backdrop of the loss of millions of manufacturing jobs in the United States. Democrats pointed to the losses as evidence, they said, that the president's economic policies were failing.

As treasury secretary, Snow has preached the importance of financial literacy. Yet he did not catch a more than $10 million error in his own investment portfolio right away because he did not bother to read his financial statements for more than a year. An investment adviser made the mistake that caused Snow to lose nearly $500,000.




Today's Top News
Top World News

EU works on lifting of arms embargo on China




Policy makers weigh milder 2005 targets




Expert warns of Olympic overconstruction




Plan in pipeline for population problems




Emission quota trading help cut acid rain




Oil leaks after ships collided near Shenzhen