Iraqis may extend election amid violence
(Agencies)
Updated: 2004-12-09 08:54
Iraq may modify plans for its first free election to give people more time to vote next month, officials said on Wednesday as suicide bombers and gunmen again struck Sunni Muslim towns north and west of the capital.
Responding to a suggestion this week by Prime Minister Iyad Allawi that voting could be spread over two or three weeks, the Independent Electoral Commission said it would consider such a proposal if the government were to make it formally.
The Interior Ministry, which with its U.S. military allies faces a massive task to provide security at thousands of polling stations on Jan. 30, also endorsed Allawi's idea, saying voting over several days could reduce vulnerable lines in the streets.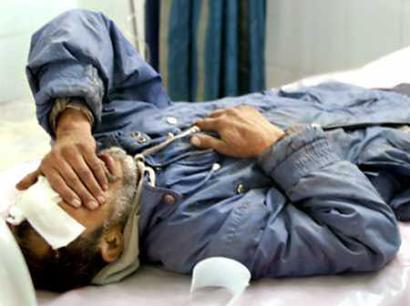 An Iraqi man is treated in a Baghdad hospital after being injured in an early morning explosion in Baghdad, December 8, 2004. A roadside bomb intended for a passing U.S. military convoy exploded, injuring six civilians. [Reuters]

Electoral Commission chairman Hussein Hendawi told Reuters: "If the government asks us officially, there are technical and legal aspects to consider, but we would study the request."

The Commission would have the final say.

But in Washington, State Department spokesman Adam Ereli dismissed the idea, telling reporters "Where we are today is where we were yesterday, various suggestions notwithstanding. January 30 elections are across the country..."

A State Department official who asked not to be named said the department was not considering changing its election plans because the idea so far had too little support among Iraqis.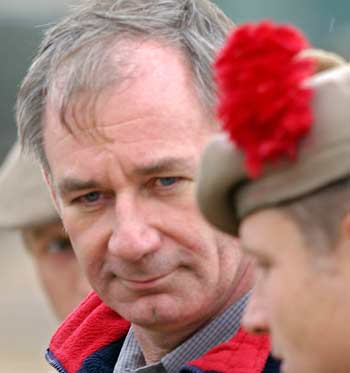 British Defence secretary Geoff Hoon, listens to British soldiers from the Black Watch battle group, during a visit to their base camp in the southern Iraqi city of Basra, December 8, 2004. Hoon is expected to stay for a couple of days after travelling to the region from the UK, a government spokesman said. He will meet troops from a cross-section of the British military stationed in Basra. [Reuters]

Leaders among the Sunni Arab minority which dominated Iraq under Saddam Hussein have said violence by insurgents bent on wrecking the poll will make it impossible to campaign and vote in Sunni areas. They have called for a delay or even a boycott.

Allawi made his suggestion to a Swiss newspaper this week in response to remarks by U.N. envoy Lakhdar Brahimi that violence made Iraq's first free and fair vote very difficult: "One can imagine elections spread out over 15 or 20 days, with the dates differing according to the provinces," he was quoted as saying.

Russian President Vladimir Putin, an opponent of last year's U.S. invasion, told Allawi bluntly in Moscow on Tuesday that he did not see how Iraqis could vote under foreign occupation or how the country could hold together without outside help.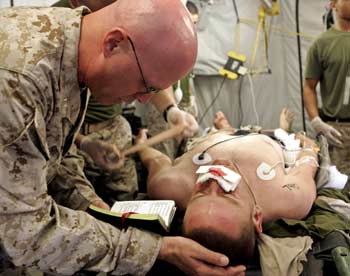 U.S. Navy Lieutenant Kenneth Nielson, a Catholic chaplain with the 1st Force Service Support Group, reads a prayer from "Rite for the anointing of the sick" for a wounded Marine being treated at the Surgical/Shock Trauma Platoon at Camp Taqaddum, after he was injured during combat operations against insurgents in the western Iraqi city of Falluja, in this photograph released on December 8, 2004. In the first six days of the U.S.-led offensive, the 63 surgeons, nurses, corpsmen, and other personnel of the Surgical Shock Trauma Platoon treated 157 patients and performed 73 operations. [Reuters]

A massive U.S. assault on the Sunni city of Falluja, launched a month ago, was aimed at breaking the rebels before the election. While it killed up to 1,600 of them and deprived them of a major base, attacks continue on a daily basis.

Nearby Ramadi, 70 miles west of Baghdad, was again in turmoil on Wednesday, with masked gunmen roaming streets and battling U.S. troops. Two Iraqis were killed in shooting after a suicide car bomber hit a U.S. checkpoint.

North of the capital in Samarra, a city the government said it reclaimed from the guerrillas two months ago, at least six people including two policemen were killed. A suicide bomber attacked a U.S. convoy. In Baghdad itself, two soldiers were slightly wounded when a car bomb struck their patrol.

In Kuwait, where Secretary of Defense Donald Rumsfeld visited troops about to be deployed to Iraq, some challenged him about the quality of the equipment they are taking to war.

"Why do we soldiers have to dig through local landfills for pieces of scrap metal and compromised ballistic glass to armor our vehicles?" one soldier asked Rumsfeld during a question and answer session at Camp Buehring military base, 20 km (12 miles) south of the Iraq border in Kuwait.

"We do not have proper armorment for our vehicles to carry us north."

Rumsfeld said he had discussed this with military commanders. "The goal we have is to have as many of those vehicles as is humanly possible with the appropriate level of armor appropriate for the troops."

While attacks are legion in north and central Iraq, in the Shi'ite Muslim south voters are expected to flock to the polls to consolidate the new power of the long-oppressed, 60 percent Shi'ite majority.

British Defense Secretary Geoff Hoon, visiting the British troops who police the southern city of Basra, said there was no need to delay the election and that preparations were advancing.

"The progress of registration both of individual voters and of the political parties is moving along extremely well," he said.

Rumsfeld highlighted a key element in the occupying powers' election strategy -- bringing troops home: "After the election ... you would see a reduction in the forces of the coalition countries and that's the hope, and that's the expectation."

Following the disclosure of a CIA note painting a gloomy picture of Iraq's future, Rumsfeld, one of the main architects of the invasion, said much was going well. But he conceded: "There's a lot not right in Iraq, that's a fact and we know that, and people have been killed and people have been wounded."




Today's Top News
Top World News

EU works on lifting of arms embargo on China




Policy makers weigh milder 2005 targets




Expert warns of Olympic overconstruction




Plan in pipeline for population problems




Emission quota trading help cut acid rain




Oil leaks after ships collided near Shenzhen