Ukraine's parliament OKs electoral reforms
(Agencies)
Updated: 2004-12-08 21:16
KIEV, Ukraine - Ukraine's parliament adopted a package of electoral and constitutional changes Wednesday in a compromise aimed at defusing the nation's political crisis less than three weeks before a rerun of the disputed presidential vote.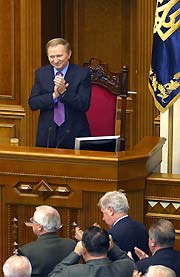 Ukrainian President Leonid Kuchma (top) and deputies applaud after signing the documents on constitutional changes during a parliamentary session in Kiev, December 8, 2004. [Reuters]

The vote came as a surprise after days of political maneuvering and massive street protests. It suggested that opposition leader Viktor Yushchenko's camp had determined that the prolonged unrest could ultimately weaken the country and his own position ahead of the Dec. 26 repeat vote.


The package was approved in a 402-21 vote with 19 abstentions, drawing a lukewarm endorsement from Yushchenko's supporters. Lawmakers stood and cheered as President Leonid Kuchma signed the measure.


"Over the last 100 years, Ukraine has more than once suffered through a crisis, but there was always enough common sense to find a way out and a decision," Kuchma said.


After signing the text of the amendments and laws package in two blue leather folders with a golden Ukrainian trident, Kuchma shook hands with parliament speaker Volodymyr Lytvyn and deputy speakers. Lytvyn then firmly clasped both folders and held them up to show to deputies.


"We didn't go beyond the limits and didn't fall over the precipice," Lytvyn said. "I hope that after this decision, the situation will stabilize in Ukraine."


As word spread of the decision, demonstrators ¡ª exhausted and haggard after two weeks of blockades and demonstrations in Kiev's freezing streets ¡ª expressed relief.


"Some kind of compromise had to be reached," said Serhiy Vlasov, 44, who wore a pro-Yushchenko orange band tied around his arm. "We couldn't drag this out forever."


Yushchenko had balked at the constitutional reforms, saying Kuchma allies wanted to steal his potential victory by weakening the presidency.


A group of communist, socialist and pro-government factions in parliament agreed to the electoral changes on condition they were voted together with the constitutional changes.


The parliament returned after a brief recess and began to reshuffle the Central Election Commission, which had declared Prime Minister Viktor Yanukovych the winner of the disputed Nov. 21 presidential runoff that was marred by allegations of fraud, beginning Ukraine's crisis.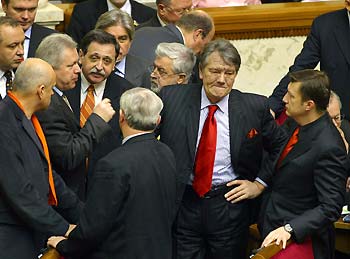 Ukrainian opposition leader Viktor Yushchenko (2R) stands with fellow deputies before voting for constitutional changes during a parliamentary session in Kiev, December 8, 2004. [Reuters]

Yushchenko's supporters have virtually camped out in the streets for two weeks. Last week, the Supreme Court invalidated the runoff and ordered the new vote.


Lawmakers voted to oust the election commission's chief, Serhiy Kivalov, and a decision to nominate him was met with shouts of "Shame!" by Yushchenko supporters.


Yushchenko's camp had pushed strongly for electoral changes to close loopholes for fraud ahead of the new vote, but they had resisted the constitutional changes, which would transfer some presidential powers to parliament.


Kuchma said he had already accepted the resignation of the prosecutor general, a key opposition demand.


"This is really a historic decision," said Bohdan Gubsky, who backed Yanukovych, referring to the parliamentary passage of the legislation. "This decision can end the crisis in the country."


Mykola Tomenko, a key Yushchenko ally and a lawmaker, said that the vote "was a unique and an adequate solution."

"While Kuchma began his career (as president) with reinforcements of presidential powers, Yushchenko will begin his (presidential) career with a reduction of powers," Tomenko said.

In a separate development, the director of the Austrian hospital said the cause of the illness that left Yushchenko's face pockmarked is still not known, rejecting a report that doctors had come to a conclusion that the presidential candidate was poisoned.

Yushchenko has accused the Ukrainian authorities of poisoning him during the campaign leading up to last month's disputed presidential election, something they deny.

Doctors are still running tests to try to determine what caused the illness, said Dr. Michael Zimpfer, the Rudolfinerhaus director, although he acknowledged that poisoning was one of the possibilities being investigated.

Zimpfer rejected as "entirely untrue" a story in Wednesday editions of the London daily, The Times, which quoted Dr. Nikolai Korpan ¡ª the Rudolfinerhaus physician who oversaw Yushchenko's treatment ¡ª as saying that the candidate had been poisoned and the intention was to kill the candidate.

Korpan also was quoted as denying making the remarks.

"The suspicion of poisoning has until now neither been confirmed or excluded," Korpan said, according to the Austria Press Agency. He could not be reached for further comment.

Still, The Times report had prompted one group of exhausted opposition supporters from the central city of Zhitomyr to change its plans.

"We were packed and about to leave when a man told us about the article ... now we will stay. Someone will pay dearly for what they have done to him (Yushchenko)," said Evhen, who revealed only his first name.

Yushchenko supporters have pushed for Yanukovych's resignation, but Kuchma has refused to fire him and instead, on Tuesday, approved his leave of absence for the campaign period, naming a deputy premier as caretaker.

Yanukovych, who has been supported by the Kremlin, draws his strength from the Russian-speaking, industrial east, which accounts for one-sixth of Ukraine's population. Yushchenko is backed by the Ukrainian-speakers who want to end what they say has been mass corruption during Kuchma's 10 years in power. Yushchenko wants to take Ukraine into the European Union (news - web sites) and NATO (news - web sites).

Several thousand Yushchenko supporters, growing impatient over the lack of progress in passing legislation for the election, besieged Parliament Tuesday, chanting "Parasites! Parasites!"

On Wednesday, police brought several buses of troops to secure the compound and several surrounding blocks.

Throngs of opposition demonstrators pledged that they would maintain their raucous, often noisy vigil until the legislation passed.

"We have grown tired physically, but spiritually we are longing for a victory," said Olha Pokalchuk, 44.




Today's Top News
Top World News

EU works on lifting of arms embargo on China




Policy makers weigh milder 2005 targets




Expert warns of Olympic overconstruction




Plan in pipeline for population problems




Emission quota trading help cut acid rain




Oil leaks after ships collided near Shenzhen