EU to send 'positive' signal on arms ban
(Agencies)
Updated: 2004-12-08 13:02
The EU is set to give a "positive signal" to China at a summit with Chinese Premier Wen Jiabao over his call to lift a 15-year-old EU arms embargo, but no immediate decision is expected.
Wen will also be pushing for the 25-nation body to view China as a full market economy, officials said ahead of the EU-China meeting in The Hague, where a series of bilateral agreements will also be signed.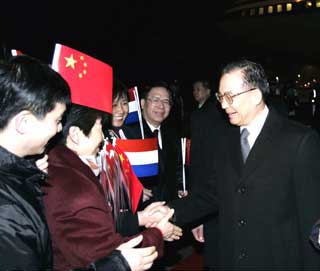 Chinese Premier Wen Jiabao (right) arrives in Amsterdam, the Netherlands, December 7, 2004. Wen will hold summit meeting EU president and pay an official visit to the Netherlands. [Xinhua]

In particular the two sides will ink a declaration on non-proliferation issues and could also sign an accord on cooperation in the peaceful uses of nuclear technology. They are also considering a new cooperative economic and trade agreement to replace a 1985 pact that is considered outdated.

But discussions on the arms ban will likely dominate the agenda.

Wen wants the embargo lifted as soon as possible, saying Sino-EU relations could be damaged if the issue lingers for much longer.

"We hope that EU leaders and its members will make the right and early decision," said foreign ministry spokeswoman Zhang Qiyue in Beijing, adding: "We think this is a political discrimination against China."

In The Hague Wen will hold talks with Dutch Prime Minister Jan Peter Balkenende, whose country holds the rotating EU presidency, as well as European Commission head Jose Manuel Barroso and EU foreign policy chief Javier Solana.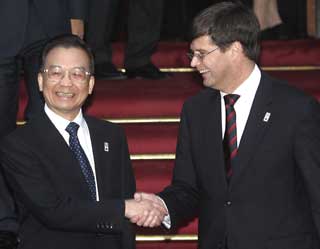 Dutch Prime Minister Jan Peter Balkenende (R) shakes hands with China's Prime Minister Wen Jiabao during a photo opportunity prior to the China-EU summit in The Hague December 8, 2004. [Reuters]

But EU officials said on the eve of the trip that Beijing should have no illusions about the arms ban.

Reiterating a pledge made by EU foreign ministers last month to give a "positive signal" at the talks in The Hague, an official said that "doesn't mean a decision to lift it, it means that we are working in that direction."

"At this point unfortunately we won't be able to go any further," she added.

France again underlined its support for an end to the EU ban on the eve of the summit.

"Member states of the EU agree on this ... The discussions are focused on the timetable and modalities for the lifting of the embargo," said foreign ministry spokeswoman Cecile Pozzo di Borgo in Paris.

Wen's entourage for the EU talks includes Foreign Minister Li Zhaoxing, Commerce Minister Bo Xilai and Agriculture Minister Du Qinglin.

During meetings, Wen will also likely discuss the recent dramatic rise of the euro against the dollar and the January 1, 2005 end of the import quota system of the multilateral textile agreement, officials in Beijing say.

Some estimates predict that China's world market share of textiles and clothes will rise from 17 percent in 2003 to up to 50 percent when the import quota system is disbanded.




Today's Top News
Top China News

Lenovo buys IBM's PC unit for $1.25 billion




Prices take largest jump since 1997




VW opens new auto venture with FAW




EU to send 'positive' signal on arms ban




Views on filial piety see change




Death, 'rape' case of teacher in spotlight