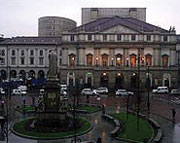 La Scala is one of the world's most famous opera houses. (Agencies)
Milan's world-famous opera house La Scala is re-opening on Tuesday after a three-year closure for renovation.
A dress rehearsal of the opening opera, Antonio Salieri's Europa Riconosciuta, was held on Sunday for the staff and workers involved in the restoration.
Italian newspaper Corriere della Sera hailed it as "the real opening night" that took place amid "copious applause, ovations [and] a party atmosphere".
Europa Riconosciuta was the first opera staged at the original theatre in 1778.
Riccardo Muti, La Scala's musical director and main conductor, said the dress rehearsal was "an evening for those who work in the theatre, the great Scala family which comes together on important occasions".
He recently said Salieri, who fell on hard times and was largely forgotten after the original La Scala opening, should be regarded among the musical giants of his day.
The opera has not been performed since its original run so La Scala had to print the score for Europa Riconosciuta from scratch, working from the original manuscripts in its library.
The renovation work, carried out amid criticism and fear the theatre would be ruined, was done to improve the theatre's acoustics and ability to stage productions.
The stage was entirely re-constructed, making it possible, in theory, to stage three different operas on the same day.
The heavy red carpets in the hall were also removed, reportedly improving the theatre's sound.
Another modernising touch was the fitting of electronic displays behind each seat to allow the audience to follow the libretto in several languages.
This is not the first re-opening of La Scala. The theatre was destroyed by a bomb during World War II.
It was rebuilt in record time and re-opened in 1946 with a concert conducted by the legendary Arturo Toscanini.
Italy's Prime Minister Silvio Berlusconi is expected to attend Tuesday's re-opening alongside celebrities such as film legend Sofia Loren and Giorgio Armani, one of Milan's top fashion designers.
(Agencies)