Ukraine president, assembly deadlocked over poll
(Agencies)
Updated: 2004-12-08 09:22
Ukraine's outgoing president and opposition appeared deadlocked on Tuesday after the collapse of a tentative deal intended to smooth a rerun of elections annulled because of fraud and defuse weeks of turmoil.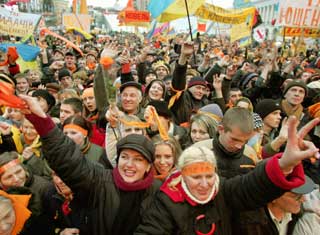 Supporters of opposition leader Viktor Yushchenko flash victory signs as they take part in a rally in Kiev, December 7, 2004. Ukraine's outgoing leader Leonid Kuchma denied on Tuesday he had agreed on concessions with his opponents to end a crisis that has plunged the country into turmoil and driven a wedge between Russia and the West. [Reuters]

London's Times newspaper cited a Vienna hospital doctor as saying he was now convinced opposition leader Viktor Yushchenko, whom he treated in the run-up to the November poll, had been poisoned. The report is likely to stir further concern in Kiev.

The election, rigged by authorities to hand power to Yanukovich, triggered mass protests in support of opposition leader Viktor Yushchenko. The Supreme Court backed Yushchenko's charges of mass fraud and ordered the new vote.

Yushchenko's previously smooth face has become pocked with cysts and lesions. Supporters say he was poisoned in an attempt to secure victory for Moscow-backed rival Viktor Yanukovich.

"We are now sure that we can confirm which substance caused this illness," Dr Nikolai Korpan, who supervised Yushchenko's treatment at Vienna's Rudolfinerhaus clinic, was quoted as saying in Wednesday's edition of the newspaper.

"He received this substance from other people who had a specific aim," he added. Asked if the aim had been to kill Yushchenko, Korpan said: "Yes, of course."

The ongoing deadlock between outgoing President Leonid Kuchma, who supported Yanukovich, and the opposition caused further ripples between the West and Russia.

Moscow blocked U.S. and European diplomatic efforts for a joint position on the Dec. 26 election re-run. Foreign Minister Sergei Lavrov said that amounted to interference in Ukraine's affairs.

Signs emerged that more than two weeks of turmoil were beginning to dent the economy. The budget deficit jumped to $1 billion from next to nil in the two months preceding the tainted Nov. 21 vote.

The latest mediation effort to reconcile the opposition and Kuchma suffered a setback when the veteran leader reversed his stance on concessions within a matter of hours.

Some progress appeared to have been made after marathon "round-table" negotiations brokered by European Union foreign policy chief Javier Solana, when Kuchma told reporters he would meet two of three opposition demands.

But, in a written statement hours later, he said: "If we are to speak in general terms, no agreement was reached and instead of a statement from the round-table talks, there was simply a statement for the press."

Parliament also adjourned without passing laws agreed with Kuchma as part of an earlier deal to end the stand-off.

RUSSIA TORPEDOES DIPLOMATIC INITIATIVE

In Bulgaria, Russia torpedoed a declaration by 55 member states of the Organization for Security and Cooperation in Europe (OSCE), which called for all parties in Ukraine to cooperate for a fair re-run of the tainted vote.

"Our partners demanded additional formulations which actually meant interference in the negotiation process in Ukraine," Lavrov told a news conference.

Secretary of State Colin Powell rejected the notion, saying it was "a matter of allowing a country to choose how it wishes to be governed and who it wishes to have as its friends."

In his comments, Kuchma said Yushchenko's Our Ukraine group had stalled talks by insisting on the government's dismissal.

The president and parliament are eyeing each other with suspicion as they pursue different aims to solve the crisis.

The opposition is demanding dismissal of officials which oversaw last month's vote and new laws to prevent rigging in addition to Yanukovich's removal.

Kuchma, who said after Monday's mediation he would agree to the first two demands, wants the opposition to vote for constitutional changes to cut the powers of the next president and give more power to parliament and the prime minister.

He issued a decree later on Tuesday noting Yanukovich's decision to take a "break" to campaign in the new vote and appointing Finance Minister Mykola Azarov as acting premier.

Parliament put off until Wednesday any decision on changes to electoral law or the constitution. Many said Kuchma was blocking attempts at a solution by refusing to sack Yanukovich.

"The man who is supposed to be guarantor of the constitution is ignoring our decision of Dec. 1," said centrist deputy Vasyl Havrylyuk, referring to parliament's vote to dismiss Yanukovich.

Parliament on Wednesday could approve a legislative package approving both new election rules and constitutional changes.

Or it could separate the issues and refuse any reduction in the president's powers -- as Yushchenko's allies have advocated in anticipation that their candidate will win on Dec. 26.




Today's Top News
Top World News

Consumer prices take largest jump since 1997




Testing upgraded for food




VW opens new auto venture with FAW




Views on filial piety see change




Death, 'rape' case of teacher in spotlight




Experts call for sex education to curb AIDS