VW opens new auto venture with FAW
By China Daily (Gong Zhengzheng & Jiang Wei)
Updated: 2004-12-08 02:08
Visiting German Chancellor Gerhard Schroeder yesterday said he expects automaker Volkswagen maintain its market share in China's car market, despite acute competition in the auto sector.
"I hope Volkswagen will keep its market share (in China) to benefit itself and China's auto industry, and to preserve Germany's job and investment opportunities," Schroeder said.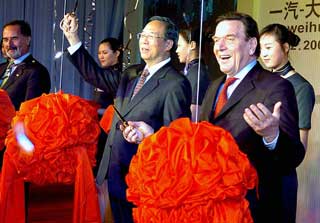 Visiting German Channcellor Gerhard Schroeder and Chinese Vice-premier Zeng Peiyan cut the ribbon to open the second large plant for Volkswagen's car joint venture with First Automotive Works Corp (FAW) in Changchun, capital of Northeast China's Jilin Province December 7, 2004. [newsphoto]

The chancellor made his remarks yesterday during a ribbon-cutting ceremony at the opening of a second large plant for Volkswagen's car joint venture with First Automotive Works Corp (FAW) in Changchun, capital of Northeast China's Jilin Province.

"I have confidence in the vigour of China's market and economy, and the capabilities of the two sides in the joint venture," he added.

The completion of the second plant, with an investment of 12.3 billion yuan (US$1.5 billion), will double the venture's annual production capacity to 660,000 vehicles.

"We will strive to maintain our leadership in China's car market, although competition is becoming fiercer," said Bernd Pischetsrieder, Volkswagen's chief executive.

"China is and will continue to be one of the world's most important growth markets, despite a slowdown in car sales in recent months," Pischetsrieder said.

Volkswagen has been the biggest foreign car producer in China for almost two decades, but its market share has plunged to less than 30 per cent from 50 per cent three years ago.

Last year, Volkswagen sold 697,000 cars in China.

The company also runs a joint venture with Shanghai Automotive Industry Corp, which now has an annual production capacity of 450,000 units.

The second FAW Volkswagen plant will produce the Caddy model at the beginning of next year and other models from Volkswagen's PQ35 platform later on.

Accumulated output of FAW Volkswagen, set up in 1991, will reach 1.3 million cars at the end of this year, Pischetsrieder said.

"The equity structure of FAW Volkswagen will be 50 to 50," he said without revealing a timetable.

At present, FAW and Volkswagen control a 60 per cent and 40 per cent stake in the venture, respectively.

Sales of Chinese-manufactured cars grew by 18.76 per cent year-on-year to 1.88 million units in the first 10 months of this year. The growth rate was down from 75 per cent last year.

Partnership advances

Before flying to Changchun, Schroeder held separate talks with President Hu Jintao and top legislator Wu Bangguo yesterday.

Both Hu and Wu expressed their strong willingness to advance China's "strategic partnership" with Germany.

Hu expressed appreciation for Germany's adherence to the one-China policy as well as its efforts to develop strategic relations between China and Europe.

Schroeder said Germany is willing to participate in rejuvenating the nation's old Northeast industrial base because of its experience in revitalizing industry.

He said that Germany will strengthen mutual political trust with China and deepen ties.

While Wu, chairman of the Standing Committee of the National People's Congress (NPC), said the NPC and the German Parliament have increased exchanges and visits and have had "effective co-operation."

"As a result, we have increased mutual understanding and expanded our consensus," said Wu.

Schroeder yesterday also attended the Sino-German Economic Co-operation Forum yesterday in Beijing.

He said trade volume between the two countries is expected to be doubled with concerted efforts of both sides.

The bilateral trade volume exceeded US$40 billion this year and is expected to reach US$50 billion.

"Governments of both sides will promote co-operation between the small- and medium-sized enterprises in both countries, because they are the most energetic segment of the economy," he said.

According to the chancellor, the two countries will also strengthen their co-operation in exploiting reproducible energies.

The business delegation, accompanying the chancellor, is interested in participating the rejuvenation of Northeast China as some German enterprises will establish joint ventures in this area.

Germany is the largest trading partner and the second largest investor from Europe while China is the largest trading partner of Germany in Asia and Pacific region.




Today's Top News
Top China News

Draft Anti-Secession Law explained to NPC deputies




Top legislature accepts Jiang's resignation




Listings of two big State banks imminent




Experts split over gambling law proposal




Time needed for Chinese women into space




Super-bridge project given green light