"Air Car 500" test flight successful
(Xinhua)
Updated: 2004-12-08 00:04
A five-seat aircraft "AC500" or " Air Car 500" made its first flight in Nanjing, capital of east China's Jiangsu Province, Tuesday.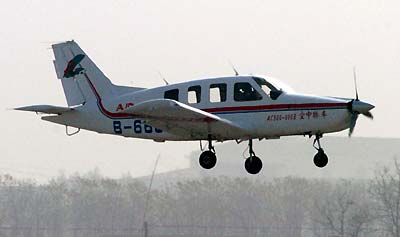 "Air Sedan," a light airplane developed jointly by Nanjing Aeronautics and Astronautics University and the Nanjing Light Aircraft Co Ltd, gets airborne yesterday in its virgin flight. Equipped with advanced avionics and with a range of 1,000 kilometres, the airplane is designed for business, sightseeing and prospecting. [newsphoto]

Two AC500 aircraft made a 22-minute aerobatics flight.

"The functions are pretty good," said a veteran pilot surnamed Wang who piloted a AC500, "it's just as convenient and comfortable as driving a car."

With independent intellectual rights, the light aircraft was developed by the Nanjing Light Aircraft Company Limited and the Nanjing University of Aeronautics and Astronautics (NUAA). It was produced by the Hongdu Aviation Industry Group based in Nanchang, capital of east China's Jiangxi Province.

The General Administration of Civil Aviation of China accepted the developer's application for certification of the new aircraft models and set up a committee to monitor and examine the production and quality of the aircraft in 1998.

The craft currently has two prototypes including a business model and a trainer model with dual control system.

The craft are 10.2 meters in wing span, 8.4 meters long and 5.2 meters high. It can fly 1,000 kilometers non-stop with a maximum speed of 289 kilometers per hour and a maximum flight elevation of 5.5 kilometers.

An efficient and economic vehicle, light aircraft is in use worldwide and the United States alone has about 200,000 light aircraft. The planes are expected to have a large potential market in China, said Pan Jiazheng, general designer of AC500.

The five-seater was designed for a variety of purposes like business travel, scientific experiments and mineral exploration. It can also be used for patrolling, monitoring forests, express delivery, first aid and advertising.

Each AC500 will be priced at 3.6 million yuan (433,734 US dollars), according to Nanjing Light Aircraft Company.




Today's Top News
Top China News

Lenovo buys IBM's PC unit for $1.25 billion




Prices take largest jump since 1997




Testing upgraded for food safety




VW opens new auto venture with FAW




Views on filial piety see change




Death, 'rape' case of teacher in spotlight