Saudis probe daring Qaeda attack on US mission
(Agencies)
Updated: 2004-12-07 20:39
JEDDAH, Saudi Arabia - Saudi Arabia tried Tuesday to discover how militants penetrated the elaborate defenses of a U.S. consulate in what al Qaeda said was a reprisal for last month's U.S. assault on Falluja in Iraq.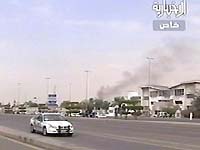 Smoke billows from the US consulate in Jeddah. Gunmen suspected of links to Al-Qaeda stormed the US consulate in the Saudi port of Jeddah, triggering a bloody three-hour siege that left five staff and three attackers dead.[Xinhua]

At least nine people died in Monday's attack in Jeddah, the first against a Western diplomatic mission and first big strike in six months in the world's top oil exporter by militants bent on driving Westerners from the birthplace of Islam.

"We have to find out exactly what gave them the ability to get inside and get through the gate," Interior Ministry security spokesman Brigadier-General Mansour Turki told Reuters. "The measures taken were thought to be enough to prevent this."

A statement in the name of al Qaeda's Saudi wing said the "squadron of martyr Abu Annas al-Shami breached the bastion of the Crusaders" in what it called "the blessed Falluja attack."

U.S.-led forces have blasted their way into Falluja to hunt for insurgents and foreign fighters, including those loyal to America's top enemy in Iraq, al Qaeda ally Abu Musab al-Zarqawi.

Relatives of Shami, Zarqawi's spiritual mentor, say he was killed in an earlier U.S. strike in Iraq.

SECURITY FLAWS

The brazen attack against a symbol of the U.S. government in Jeddah showed that Saudi-born Osama bin Laden's al Qaeda network still poses a threat despite an 18-month-old crackdown in which leading militants have been killed or captured.

It also highlighted flaws in U.S. and Saudi security measures to protect the mission from al Qaeda, which has repeatedly vowed to strike at U.S. interests in the kingdom.

Officials say the assailants followed an official consulate car into the complex, firing guns and hurling grenades to force entry. No U.S. diplomats were killed but the gunmen burned the U.S. flag and set fire to buildings.

An Interior Ministry statement named three of the attackers killed in the raid, but none was on a list of 26 top wanted al Qaeda militants. It said the authorities were trying to identify a fourth dead militant and would not reveal the name of a fifth militant who was captured after he was wounded.

"The attackers took a chance while a consular car was going in, so the door was open," Turki said. "They threw grenades at the guards at the gate and stormed through. They had no access inside the consulate itself as they were kept to the perimeter."

U.S. officials said the militants must have kept the consulate under surveillance for some time before the attack.

Officials said five consulate staff -- a Yemeni, a Sudanese, a Filipino, a Pakistani and a Sri Lankan -- were also killed.

Adel al-Jubeir, foreign affairs adviser to Saudi Arabia's Crown Prince Abdullah, said the gunmen called an emergency line to say they had taken hostages. Some of the wounded staff also said the militants had tried to use them as human shields.

The consulate stayed shut Tuesday and the U.S. flag flew at half-mast. An armored vehicle guarded the gate while Saudi forces manned sentry points around the vast walled compound.

U.S. oil prices edged higher for the second day in a row, partly on the Jeddah violence and partly due to calls within producers' cartel OPEC to cut excess output.

Saudi Arabia vowed to eradicate terrorists. President Bush linked them to insurgents in Iraq.

Saudi Arabia, birthplace of most of the hijackers in the Sept. 2001 attacks on U.S. cities, has been battling a wave of al Qaeda violence since May 2003. Around 170 people, including foreigners, security forces and militants have been killed.

In the kingdom's last big attack, militants struck at oil companies and a housing compound in the eastern city of Khobar in May. At least 22 foreigners and seven security men died.




Today's Top News
Top World News

Super search Accoona.com launched in US and China




US against Taiwan's moves to alter names




Record deals inked with Germany, Italy




Poor mines barred, on hold




Swan Lake protection needs more attention




Khatami: Iran's democratic reforms failed