Karzai to be sworn in as Afghan president
(Agencies)
Updated: 2004-12-07 14:36
Hamid Karzai was set to be sworn in on Tuesday as the country's first popularly elected president at a ceremony attended by two of the figures most responsible for easing him into power.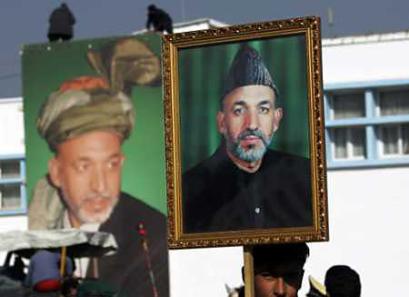 An Afghan boy holds a portrait of President Hamid Karzai during rehearsals for the upcoming inauguration in Kabul airport on December 5, 2004. A ring of steel was placed around the Afghan capital on Dec. 7 as Hamid Karzai prepared to be sworn in as the country's first popularly elected President at a ceremony attended by two of the figures most responsible for easing him into power. [Reuters]


Kabul has been placed under tight security for the 2 a.m. EST inauguration following warnings from the ousted Taliban that they plan attacks across the country and want to disrupt the ceremony.

At least six Taliban fighters and three soldiers were killed in Afghanistan's southeastern province of Khost in a Taliban raid late on Monday, a provincial military official said on Tuesday.

Among the guests of honor for the inauguration of Karzai -- who won Afghanistan's first democratic presidential election on October 9 -- will be U.S. Vice-President Dick Cheney and Secretary of Defense Donald Rumsfeld.

They are two of the most hawkish members of President Bush's cabinet and key architects of the Washington-backed war that overthrew the Taliban in the wake of the Sept. 11, 2001 attacks.

Cheney and Rumsfeld spoke to U.S. troops hunting remnants of the Taliban and al Qaeda still active in the country during a visit to Bagram Air Base, north of Kabul, early on Tuesday.

"This is not an enemy that we can reason with or negotiate with or appease," Cheney said, adding it is "an enemy who we must destroy."

Rumsfeld weighed in with a pledge that the 18,000-strong U.S. force would be withdrawn once their mission was accomplished.

"Our goal is not to stay here, but to come and do the job and leave it a lot better than we found it," he told the troops.

THREE DECADES OF CONFLICT

Scores of other foreign guests and VIPs were attending Karzai's oath taking, including U.N. Secretary-General Kofi Annan's special advisor Lakhdar Brahimi, NATO Secretary-General Jaap de Hoop Scheffer, Russian Foreign Minister Sergei Lavron, Iranian Foreign Minister Kamal Kharrazi, Indian Foreign Minister Natwar Singh, Pakistan's Interior Minister Aftab Sherpao and the presidents of Kazakhstan, Tajikistan.

But no nation has given Afghanistan as much support as the United States or have as much at stake in ensuring the country emerges from nearly three decades of conflict.

U.S. forces in Afghanistan are still hunting for Osama bin Laden, mastermind of the Sept. 11 attacks who remains a taunting menace to U.S. interests around the world.

The Taliban attacked Afghan military posts on Monday night in Khost's rugged Ali Sher district near the Pakistan border -- an area that was a bin Laden stronghold during the Taliban's rule.

Kheyal Baaz Sherzai, the Afghan military commander in the area, said a large force of Taliban militants armed with mortars and heavy machine guns took part in the raid, but they fled toward the Pakistan border once a counter offensive was mounted.

Security at Karzai's fortress-like presidential palace is extremely tight, with large numbers of Afghan and U.S.-led troops deployed and several key roads in Kabul closed to traffic.

Mullah Dadullah, the most senior Taliban military commander and a member of the movement's 10-man leadership council, warned people to stay away from government and military installations throughout Afghanistan during the inauguration.

"We do not want to harm innocent people," he said, adding that Taliban guerrillas had been given orders: "If you get a chance, disrupt the ceremony."

He said guerrillas all over the country had been told to be ready to launch attacks to remind foreigners that Islamist fighters opposed their occupation of Afghanistan.

ROCKET STRIKES FEARED

NATO-led peacekeepers say they have stepped up ground and air patrols to guard against rocket strikes, which may pose the greatest danger to the ceremony itself.

Peacekeepers drove armored vehicles through the streets of Kabul on pre-dawn patrols in frosty weather, helicopters circled overhead, while rapid reaction forces were placed on alert.

A measure of the worry about militant attacks is that VIPs have been asked to supply their blood groups as a precaution.

Militant-related violence across Afghanistan since August last year has killed more than 1,000 people and has included several bomb and rocket attacks in Kabul.

The violence has persisted despite the presence of U.S. forces and 8,400 NATO-led peacekeepers mainly based in Kabul.

After Tuesday's ceremony, all eyes will be on who Karzai picks for his new cabinet expected to be announced next week.

Its make-up is seen as crucial to whether the country can now chart a course of reform away from warlordism and weak central control and an economy dominated by the drugs trade.




Today's Top News
Top World News

Record deals inked with Germany, Italy




US against Taiwan's moves to alter names




Presidents tout strong relations with Italy




Poor mines barred, on hold




Swan Lake protection needs more attention




Khatami: Iran's democratic reforms failed