Gunfight erupts near Baghdad U.S. embassy
(Agencies)
Updated: 2004-12-07 14:36
A heavy gunfight broke out Monday on a dangerous street in central Baghdad within blocks of the country's most fortified facilities, including the U.S. Embassy and interim Iraqi government headquarters. Five more American troops were killed in the volatile Anbar province.
A dawn attack on a domestic oil pipeline supplying fuel from northern Iraq to Baghdad and clashes that killed three militants in the country's turbulent west underlined the security difficulties ahead of Jan. 30 national elections.
Heavily armed insurgents have been emboldened by a spate of attacks across Iraq that have claimed more than 80 lives in recent days, mostly Iraqis working for the coalition or Iraqi national security forces.
On Baghdad's Haifa Street on Monday, witnesses said gunmen killed an Iraqi employed by coalition authorities not far from the Green Zone, a heavily guarded compound where American and Iraqi forces protect government officials, diplomats and private contractors.
Initially, witnesses said the gunmen fought U.S. troops. But the U.S. military said late Monday that American troops were not involved.
Haifa Street has been the site of previous battles between insurgents and coalition forces. Despite their overwhelming strength, U.S.-led troops and Iraqi security forces have yet to secure areas surrounding the country's most vital facilities.
U.S. soldiers and Iraqi police continued to be targeted by insurgents. On Sunday, attackers with machine guns killed 17 Iraqi civilians employed by the U.S. military in Tikrit, shooting them as they stepped off a bus to work at a weapons destruction dump.
The Ansar al-Sunnah Army, one of Iraq's most feared terror groups, claimed responsibility for the Tikrit attack in a statement on the group's Web site.
The 1st Marine Expeditionary Force said three U.S. soldiers were killed Sunday and two Marines were killed on Friday in fighting in western Anbar province, a region that includes the battleground cities of Fallujah and Ramadi. More than 1,270 U.S. troops have died since the Iraq war began in March 2003.
Marines have led major operations in the region, particularly in Fallujah, to destroy a network of Iraqi and other Arab fighters blamed for attacks on U.S. and Iraqi forces and the kidnapping and killing of Western hostages.
The violence ¡ª including a roadside bomb attack on a U.S. patrol in Baghdad Monday that wounded one soldier ¡ª persisted despite offensives intended to suppress guerrillas ahead of elections.
The military on Tuesday said U.S. troops captured 14 Iraqis, including 10 wanted for making explosive devices to attack coalition forces. Seven, captured in As Siniyah on Monday, were alleged members of a car bomb-making cell. Another seven, including three accused of bomb-making, were captured in Tikrit.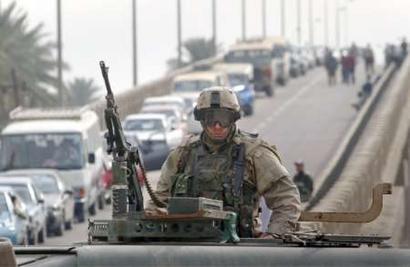 A U.S. Army soldier guards a long line of vehicles waiting to buy gasoline in Baghdad, December 6, 2004. [Reuters]


In Washington, President Bush met Iraq's interim president, Ghazi al-Yawer, and told reporters it was impossible to "guarantee 100 percent security" in Iraq. Bush pledged the United States would do everything it could to make Iraq's elections as safe as possible.

Al-Yawer, a Sunni Muslim, expressed resolve to defeat the insurgents, saying "victory is not only possible, it is a fact." He said most Iraqis want the elections. His White House visit is seen as a way to persuade Iraq's political minorities, comprising mostly Sunni groups, not to boycott the elections.

Sunnis represent one-fifth of Iraq's nearly 26 million people and wielded the power under Saddam Hussein. They fear the election will give Shiites, with 60 percent of the population, an overpowering grip on the nation. U.S. and Iraqi officials are concerned that a boycott by Sunnis could undermine the legitimacy of a new government.

Police said an Iraqi translator working for U.S. forces in Ramadi, Bashar Mohammed, was kidnapped by militants Sunday. Gunmen in Baqouba, north of Baghdad, killed a child Monday in a failed attempt to assassinate police Col. Jalil Yassin and his two bodyguards. They were wounded.

U.S. forces hit back in Haditha, a rural Anbar province town 140 miles northwest of Baghdad, on Monday, killing three insurgents and wounding four, according to Dr. Bassem Izaldeen of Haditha Hospital.

American forces also announced the arrest of 42 suspected militants Sunday and early Monday in the northern cities of Mosul, Beiji, Tikrit and Samarra.




Today's Top News
Top World News

Record deals inked with Germany, Italy




US against Taiwan's moves to alter names




Presidents tout strong relations with Italy




Poor mines barred, on hold




Swan Lake protection needs more attention




Khatami: Iran's democratic reforms failed