Ohio certifies Bush win by 119,000 votes
(Agencies)
Updated: 2004-12-07 09:17
This battleground state on Monday certified US President Bush's 119,000-vote victory over John Kerry, even as the Kerry campaign and third-party candidates prepared to demand a statewide recount.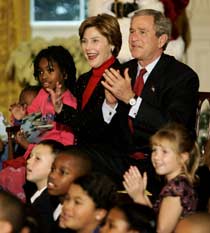 U.S. President George W. Bush and first lady Laura Bush applaud with schoolchildren and Santa Claus during a children's Christmas show in the East Room of the White House in Washington, December 6, 2004. Dozens of schoolchildren joined the president to sing Christmas Carols and watch a puppet show. [Reuters]

The US president won Ohio with 2.86 million votes, or 51 percent, to Kerry's 2.74 million votes, or 49 percent.

The 118,775-vote lead was closer than the unofficial election night margin of 136,000, but not enough to trigger a mandatory recount. Absentee ballots and provisional votes counted after election night made most of the difference.

"This was an election where you have some glitches but none of these glitches were of a conspiratorial nature and none of them would overturn or change the election results," said Secretary of State Kenneth Blackwell, a Republican who, as the state's chief election official, certified the results.

The presidential election hung on Ohio, prized for its 20 electoral votes. Not until the morning after the election did Kerry finally concede ¡ª realizing there were not enough provisional ballots to erase Bush's lead.

But critics have cited numerous Election Day problems, from long lines, a shortage of voting machines in predominantly minority neighborhoods and suspicious vote totals for candidates in scattered precincts.

The Kerry campaign last week joined the presidential candidates for the Green and Libertarian parties who are asking for a recount. The candidates, who received less than 0.5 percent of the Ohio vote, planned to file their requests Tuesday. The Kerry camp is not disputing the outcome of the race, but wants to ensure that every vote is counted.

A ruling by a federal judge in Columbus on Friday rejected one county's attempt to stop a recount, avoiding a legal precedent that could have stopped other recounts. Green and Libertarian party candidates have already raised the required $113,600 for the recounts.

Republicans said conducting a recount is pointless.

"If there's a recount, there's going to be two losers ¡ª John Kerry and the Ohio taxpayer," said Mark Weaver, a lawyer representing the Ohio Republican Party. "It's going to cost more than $1.5 million to find out what we already know."

The amount the independent candidates have raised is based on state law calculating the cost of a recount to be $10 a precinct, but Blackwell's office has said a more realistic price tag is $1.5 million.

About 20 people protested outside Blackwell's office Monday, demanding Blackwell postpone the Dec. 13 electoral college vote in Ohio until the recount is finished. Blackwell said the vote will take place.

Keith Cunningham, vice president of the state election boards association, bristled at suggestions that the election was plagued by fraud or widespread error.

"To actually assert that elections officials in Ohio have intentionally done something is beyond insulting," he said Monday. "I know election officials all over the state ¡ª it's just fantasy run wild."

The Democratic Party also said Monday it will examine reports of voting problems in Ohio.

Outgoing Democratic National Committee Chairman Terry McAuliffe said the party will spend "whatever it takes" to study complaints from Ohio voters.

McAuliffe said the study will be conducted by nonpartisan experts to be announced later, with a report issued in the spring that recommends reforms to prevent such problems in the future.

Blackwell oversaw the election process while serving as one of several statewide GOP leaders who co-chaired Bush's campaign. The 2000 Florida recount was also administered by a Republican secretary of state, Katherine Harris, who is now a member of Congress.

In a conference call with reporters, McAuliffe said the panel needs to look at the practice of secretaries of state serving as campaign officials. He said he personally thinks it's a laudable goal for election officials to be nonpartisan.

When asked if the president supports an investigation into voting irregularities in Ohio, White House spokesman Scott McClellan said the election "was viewed as very free and fair."

"It was a clear victory for the president of the United States," McClellan said. "Now is the time for us to all look forward on how we can work together to get things done."





Today's Top News
Top World News

Record deals inked with Germany, Italy




Presidents tout strong relations with Italy




Poor mines barred, on hold




Swan Lake protection needs more attention




Khatami: Iran's democratic reforms failed




9 killed in attack on US mission in Saudi