'Titanic' line tops cheesy movie survey
(Agencies)
Updated: 2004-12-07 09:05
Although "Titanic" soared at the box office in 1997, according to a recent survey, its most memorable line ¡ª "I'm the king of the world!" ¡ª sunk.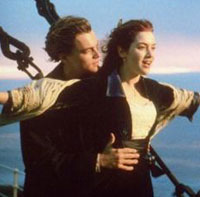 This photo from the 1997 movie 'Titanic,' showing stars Leonardo DiCaprio and Kate Winslet in a scene from the film on the ship's bow railing with arms spread wide in a wind-swept embrace, was supplied by 20th Century Fox. [AP]

British baker Warburtons posed the question "What are your top three cheesiest moments in film?" to 2,000 U.K. moviegoers in celebration of the launch of their new cheese-flavored crumpets.

The line uttered by Leonardo DiCaprio was followed by Patrick Swayze's "Nobody puts baby in the corner" from 1987's "Dirty Dancing" and Andie McDowell's "Is it still raining? I hadn't noticed," from the end of 1994's "Four Weddings and a Funeral."

Warburtons reports that surveyed women opted for romantic comedy moments from films such as "Notting Hill" and "Jerry Maguire" while men preferred silly scenes from action flicks like "Top Gun" and "Braveheart." Despite the gender divide, 33 percent of the overall vote unanimously agreed on the "Titanic" yell as the cheesiest moment.

The list of big cheese moments:

1. "Titanic": Leonardo DiCaprio's "I'm the king of the world!"

2. "Dirty Dancing": Patrick Swayze's "Nobody puts Baby in the corner."

3. "Four Weddings And A Funeral": Andie McDowell's "Is it still raining? I hadn't noticed."

3. "Ghost": Demi Moore's "Ditto," to Patrick Swayze's "I love you."

5. "Top Gun": Val Kilmer to Tom Cruise: "You can be my wingman anytime"

6. "Notting Hill": Julia Roberts' "I'm just a girl ... standing in front of a boy ... asking him to love her."

7. "Independence Day": Bill Pullman's "Today we celebrate our Independence Day!"

8. "Braveheart": Mel Gibson's "They may take our lives, but they will not take our freedom!"

9. "Jerry Maguire": Renee Zellweger to Tom Cruise: "You had me at hello."

10. "The Postman": A blind woman says to Kevin Costner: "You're a godsend, a savior." He replies: "No, I'm a postman."




| | |
| --- | --- |
| | |
| 15,000 mourned late Hong Kong lyricist Wong Jim | |

| | |
| --- | --- |
| | |
| Miss World pageant to unfold in Sanya | |

| | |
| --- | --- |
| | |
| Miss World pageant to return to Sanya in 2005 | |
Today's Top News
Top Life News

Record deals inked with Germany, Italy




Presidents tout strong relations with Italy




Poor mines barred, on hold




Polluters ignore environmental laws




Khatami: Iran's democratic reforms failed




9 killed in attack on US mission in Saudi