China bans Nike TV ad as national insult
(Agencies)
Updated: 2004-12-07 08:54
China banned a Nike television commercial showing LeBron James battling a cartoon kung fu master, as the ad insults national dignity.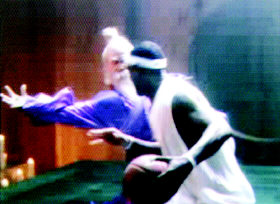 The Nike commercial shows the Cleveland Cavaliers' LeBron James defeats a Chinese ancient kung fu master. [sohu]
The commercial, titled "Chamber of Fear," was broadcast on local Chinese stations and on state television's national sports channel before being pulled last month.
It shows James, the Cleveland Cavaliers' reigning NBA rookie of the year, defeating the kung fu master, two women in traditional Chinese attire and a pair of dragons, considered a sacred symbol in traditional Chinese culture.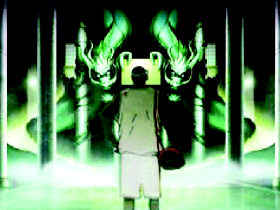 LeBron James also beat a pair of dragons in the Nike ad. [sohu]
The advertisement "violates regulations that mandate that all advertisements in China should uphold national dignity and interest and respect the motherland's culture," the State Administration for Radio, Film and Television said on its Web site Monday.
"It also goes against rules that require ads not to contain content that blasphemes national practices and cultures."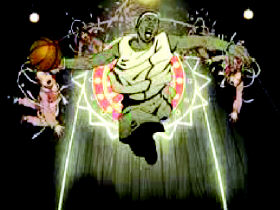 Two women in traditional Chinese attire are defeated by LeBron James in the commercial. [sohu]


The statement added: "The ad has received an indignant response from Chinese viewers."

The Chinese cultural symbols are all defeated in the Nike advertisement.

James and Nike based the ads for the 19-year-old's Air Zoom LeBron II sneakers on films featuring martial arts icon Bruce Lee. James is a fan of Lee's work.

"It was not intended to hurt anybody or any culture or anything like that," James said after practice in Cleveland on Monday.

"We put the ads together basically for kids."

James said some Asian reporters told him they liked the commercials. He was disappointed the ads were pulled and will prevent some of his fans from seeing him.

"That's big. I need as much fans as I can get," he said.

James, who signed a seven-year, $90 million endorsement deal with Nike shortly before turning pro straight out of high school, hopes to have things patched up with his Chinese fans in time for the 2008 Beijing Olympics.

"I'll be there in 2008, so maybe they'll love me a little more when I get there," said James, who played for the U.S. Olympic team this summer in Athens.

Maurice Zhou, a spokesman in Shanghai for Beaverton, Ore.-based Nike Inc. said the company had no response except to say that it "respected the government's decision."

"We respect and follow the Chinese government's laws and regulations," Zhou said.

The Chinese television regulator tightened controls over programming in May by prohibiting the use of English words and imported programs that promote.

The Nike advertisement is part of fast-growing foreign efforts to cash in on the huge popularity of basketball in China and the celebrity of James and other NBA players, such as China's Yao Ming.

Last month, a series of Nike ads in Singapore designed to resemble graffiti drew attention in a nation known for civic order.

The small, page-size posters featuring anime-style images of James were pasted over the ad panels of 700 bus stops, surprising commuters who were used to very tidy shelters. At least 50 commuters complained, shelter officials said.




| | |
| --- | --- |
| | |
| 'Titanic' line tops cheesy movie survey | |

| | |
| --- | --- |
| | |
| 15,000 mourned late Hong Kong lyricist Wong Jim | |

| | |
| --- | --- |
| | |
| Miss World pageant to unfold in Sanya | |
Today's Top News
Top Life News

Record deals inked with Germany, Italy




Presidents tout strong relations with Italy




Poor mines barred, on hold




Swan Lake protection needs more attention




Khatami: Iran's democratic reforms failed




9 killed in attack on US mission in Saudi