Guizhou landslide claims 35 lives
By Qin Jize (China Daily)
Updated: 2004-12-07 08:51
The death toll from the landslide in Southwest China's Guizhou Province continues to rise.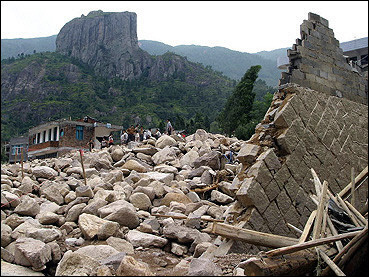 The scene of a landslide in Yueqing in August 2004. A landslide struck struck in Zuojiaying village, about 200 kilometers (124 miles) west of the provincial capital Guiyang city killing at least 23 people. [AFP]
A total of 35 bodies were pulled from the ruins while nine villagers were still missing yesterday evening.
The disaster struck at 3:00 am Friday in Zuojiaying Village, more than 100 kilometres west of the provincial capital Guiyang.
There was slim hope anyone else would be brought out alive from the site, which has been buried in soil and rocks and without air for four days, said Guo Qiang, an official with the local geological authority.
Stones as heavy as 100 tons crashed down on 19 houses. All the houses were destroyed.
Rescue work is continuing but it is becoming more difficult to clear the site with the increasing accumulation of rocks and soil.
Thirteen people injured are now in stable condition and their medical fees have been covered by the local government.
According to Guo, plans have already been drafted to rebuild their homes. Experts from the local department of land and resources and village representatives are already looking for a new site.
More than 100 people were evacuated and about 200 tents have been set up. Emergency supplies, including clothing, rice, cash and medicine have also been distributed.
Every disaster-affected family can get 60 kilograms of rice and other supplies.
The provincial authority in charge of civil affairs has also allocated 1 million yuan (US$120,000) to respond to the aftermath of the emergency, said Guo.
Guan Xiaonong, head of the Nayong County where the tragedy took place, said more than 100 victims may have to spend the next three months, the harshest season of the year, living in tents before the final site is approved for construction.
He promised the government would do everything it can to ease the situation, reported the Beijing News.
Organizations from all over the country have come forward with donations, but only 2 million yuan (US$241,800) has been donated so far, far from the estimated 8 million yuan (US$967,000) needed to rebuild the village, said Zhou Peng, the deputy magistrate of the county.
While the local villagers suspected that the landslide was caused by two coal mine pits at the foot of the mountain, experts said the tragedy occurred naturally.
Today's Top News
Top China News

Record deals inked with Germany, Italy




Presidents tout strong relations with Italy




Poor mines barred, on hold




Polluters ignore environmental laws




Khatami: Iran's democratic reforms failed




9 killed in attack on US mission in Saudi