9 killed in attack on US mission in Saudi
(Agencies)
Updated: 2004-12-07 07:59
Militants stormed the heavily fortified U.S. consulate in Jeddah in a brazen raid on Monday and at least nine people died in gunbattles before security forces regained control.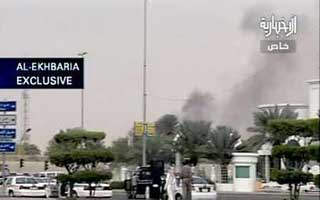 A video still image shows smoke rising from the U.S. Consulate in Jeddah, Saudi Arabia December 6, 2004. The Saudi wing of al Qaeda claimed responsibility for an attack on the heavily fortified U.S. consulate in the Saudi city of Jeddah in which at least nine people died, according to an Internet statement. Photo by Reuters in Jeddah on Monday and arrested two others, security sources said. They said that two more gunmen were being surrounded by the Saudi national guards inside the consulate compound. Attackers had stormed the U.S. mission, killing four Saudi guards and taking 18 local staff hostage, security sources said. [Reuters]

A statement on an internet web site said the Saudi wing of al Qaeda had carried out the attack, the first major militant assault in Saudi Arabia since May and the first against a Western diplomatic mission.

The bloodshed in the Red Sea port city indicated that the fight against Saudi-born Osama bin Laden's al Qaeda network in the world's biggest oil exporter is far from over.

Oil prices, which fell last week 14 percent, bounced from a three-month low partly because the attack renewed concerns about supplies. U.S. crude settled up 44 cents at $42.98 a barrel.

The Interior Ministry said security forces killed three attackers and captured another two wounded members of the "deviant" group -- what the government calls al Qaeda. It said in a later statement one of those arrested died in hospital.

The U.S. embassy said five local consulate employees died.

Saudi security officials said four of their men were killed in the assault. However, Adel al-Jubeir, foreign affairs adviser to Saudi Arabia's Crown Prince Abdullah, said "no Saudi special forces people were killed" but that two were wounded.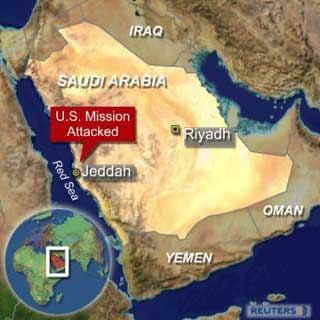 Militants stormed the heavily fortified U.S. consulate in Jeddah in a brazen raid and 12 people died in gunbattles before security forces regained control, December 6, 2004. It was the first major militant assault in Saudi Arabia since May and the first against a Western diplomatic mission. [Reuters]

The ministry said eight civilians from Arab and Asian nationalities had been slightly wounded as well as five security forces. It did not mention any fatalities among security forces.

Jubeir told reporters by telephone that the five attackers approached the gate in two vehicles and when the first vehicle was stopped at an outside checkpoint, they got out and fought their way into the compound firing guns and lobbing grenades.

He said the attackers called a general emergency line to say they had taken 17 hostages and that security forces should not attack the compound to rescue them. After coordinating with U.S. Marines providing security to the consulate, Saudi forces stormed the compound and rescued some hostages, he added.

Some of the eight consulate staff wounded in the attack told Reuters that militants had tried to use them as human shields.

"They held us hostage for an hour, an hour and a half. We were in two groups of about 4 and 8," said Muaffa Jilan Ibrahim, a Yemeni maintenance worker who had superficial bullet wounds.

"They told the security forces in front of us: 'We have hostages. If you approach, we will shoot'. They put us in front of them as human shields. The security forces stormed in and there was an exchange of fire," he said.

Consular employee, Indian national Richard Simon, whose head was grazed by a bullet, said he had taken refuge in the consulate's emergency "safe haven," which was also attacked.

"Afterwards three guys fired on the door, came inside and took four of us to another area and told us to sit down. Then some military people came, both sides were firing and we were in between," he said from his bed at King Fahd hospital.

A web site often used by Islamists claimed the attack for al Qaeda. "The squadron of the martyr Abu Annas al-Shami carried out the blessed...attack by storming one of the bastions of the crusaders in the Arabian Peninsula and penetrated the American consulate in Jeddah."

"TERRORISTS ON THE MOVE"

US President Bush said the attack showed "the terrorists are still on the move" and linked them to insurgents in Iraq, where violence threatens elections set for January.

"They want us to leave Saudi Arabia, they want us to leave Iraq, they want us to grow timid and weary in the face of their willingness to kill randomly, kill innocent people," Bush said.

Secretary of State Colin Powell said: "(This) will not deter us in our fight against terrorism."

The ministry said the five embassy employees killed were a Yemeni, a Sudanese, a Filipino, a Pakistani and a Sri Lankan.

Jubeir earlier gave different nationalities for the five. State Department spokesman Adam Ereli said four of them were employed by the consulate and one was a contractor from a private firm.

U.S. officials said the attack prompted an investigation into how assailants breached security to enter the compound.

Witnesses said the militants had hauled down the U.S. flag and burned it after bursting into the mission.

In the kingdom's last big attack, militants struck at oil companies and a housing compound in the eastern city of Khobar in May. At least 22 foreigners and seven security men died.

Gunmen have killed several foreigners since then, while Saudi forces have killed or captured some leading militants.

The Saudi government condemned the Jeddah attack and vowed to "hunt down terrorists until we...cleanse society of them."

Saudi Arabia has been battling a wave of al Qaeda violence since May 2003. Around 170 people, including foreigners, security forces and militants have been killed.

The latest assault, which followed a lull in violence, shocked the relatively tolerant and safe city of Jeddah.

"It shows that despite Saudi claims to the contrary, al Qaeda can still mount operations in the country," said Simon Henderson, a British consultant on Saudi Arabia. "Worryingly there remain concerns not only about the effectiveness of Saudi security forces but also about their loyalty."




Today's Top News
Top World News

Record deals inked with Germany, Italy




Presidents tout strong relations with Italy




Poor mines barred, on hold




Polluters ignore environmental laws




Khatami: Iran's democratic reforms failed




9 killed in attack on US mission in Saudi