Poor mines barred, on hold
By Qin Chuan (China Daily)
Updated: 2004-12-06 00:15
More than 16,400 mining companies across the country have been ordered to halt production or have been shut down since May for violating environment policies.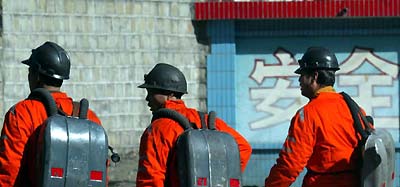 Rescuers set for an underground search for survivers in a local mine in Northwest Shaanxi Province. The blast killed a total of 166 miners. [newsphoto]

Officials from the State Environmental Protection Administration, the Ministry of Land and Resources and the State Administration of Work Safety vowed yesterday to take further measures in protecting the environment at mines.

In early May, the three authorities kicked off a national campaign to deal with environmental concerns in mining areas, particularly in regions where the number of public complaints has been growing.

To date, more than 52,400 mining companies have been inspected, said Xiong Yuehui, with the environment supervision and inspection bureau at the State Environmental Protection Administration.

The move solved many problems that had been haunting local people.

For example, 20 manganese mines were closed in Yongzhou, Central China's Hunan Province, which are located at a region supplying local drinking water.

During the campaign, inspectors have found that local governments and companies in some regions just ignore ecological protection in mines.

Xiong said many companies do not even know they should undergo environmental protection procedures and protect local environment.

In most mining areas, there is no uniform supervision and management system and no one is held responsible for environmental protection and rebuilding the local ecosystem, he said.

Statistics show only 34 per cent of 96,000 inspected companies in 24 provinces have undergone environmental impact assessments.

Xiong said in many mining regions no funds had been prepared for rebuilding the local ecosystem and local governments do not strictly fulfil their responsibilities for environmental protection, leading to the fact that no one pays for ecological damage.

The weakness of environmental inspectors also contributes to the problem, Xiong said.

Manpower, funds and supervision and management facilities in remote mining areas are far from sufficient.

The three authorities will continue to strengthen environmental protection in mines, Xiong said.

A long-term supervision and management system for the protection of the environment in mines will be set up. Similar campaigns against small- and medium-sized mining companies will be launched from time to time.

Laws and regulations on the protection of the mine environment will be made perfect.

The authorities will suggest the State Council enact a code for the protection of environment in mines and a report on the status of the environment in the country's mines will be made as soon as possible.

It will be made clear that local governments are the first responsible party for environment management in mining areas.

In addition, a multi-source investing system will be adopted so that national, local and non-government funds are used in the work.