Russia tempers support for Ukraine leader in crisis
(Agencies)
Updated: 2004-12-06 00:55
KIEV (Reuters) - Russian President Vladimir Putin, slackening support for Ukraine's government, said Monday he would work with any elected leader of the ex-Soviet state ahead of a re-run of a poll rigged in favor of the man Moscow backed.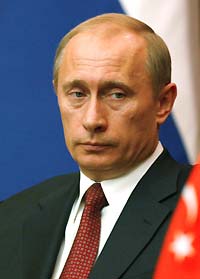 Russian President Vladimir Putin listens to his Turkish counterpart Ahmet Necdet Sezer during a press conference at the Presidential Palace in Ankara December 6, 2004. [Reuters]

Putin's comments, his first since Ukraine's top court declared the Nov. 21 presidential vote invalid, will come as a blow to outgoing President Leonid Kuchma, who wanted to hand power to Prime Minister Viktor Yanukovich, the declared winner.

Ukraine entered a third week of turmoil with Yanukovich's rival Viktor Yushchenko urging hundreds of thousands of protesters in the streets to keep up pressure on Kuchma with mass rallies and a blockade of government offices.

The country's already weak economy has been hit and its central bank urged the government Monday to take measures to prevent further price rises after a surge in demand for dollars.

Yushchenko wants the election law changed and a new election commission in order to prevent vote rigging in the Dec. 26 re-run. He has also demanded that Kuchma fire Yanukoich after a parliamentary no-confidence vote in the government.

"We accept ... the wishes of any nation in the post-Soviet territory and will work with any elected leader," RIA Novosti news agency quoted Putin as saying during a visit to Turkey.

It was a climbdown for Putin, who had both campaigned for Yanukovich and congratulated him on winning even before the result was officially announced.

Russia's concern is that Ukraine will slip out of its orbit of influence and Putin suggested Moscow would not accept a revolution on its doorstep.

"Some politicians say 'we'll seize power anyway'. We in Russia cannot support such developments, even if someone wants to call it democracy," the Interfax agency quoted him as saying.

RUSSIA WANTS TO HELP

Speaking as international mediators arrived in Kiev, Putin also said Russia would seek to help solve the country's political crisis without interfering in its affairs.

European Union foreign policy chief Javier Solana was due to join the Polish and Lithuanian presidents and a Russian envoy for mediation efforts later Monday.

Opposition leaders, emboldened by the Supreme Court's stipulation of an election re-run, have repeatedly called on Kuchma to fire his premier and ensure a free vote.

The European Union, which with the United States has been at odds with Russia over the crisis, backed their call for parliament and Kuchma to adopt a new election law. Putin, however, said he opposed legal changes.

Kuchma sidestepped the demand, saying he would accept election reform if the issue was bundled together with constitutional reform to cut the presidency's powers -- a repeat of a proposal the opposition has already rejected.

"I am ready for further steps to lift this unmotivated tension so I propose once again looking at the whole package of bills to change the election law and on changing the constitution," he told a government meeting, forced by the protests to convene at his residence just outside the capital.

A rowdy parliamentary session Saturday was adjourned after pro-Yushchenko members refused to vote on the two issues in a single vote. The opposition suspects Kuchma of wanting Yushchenko to be a lame duck president if he wins.

"I would be prepared to sign them into law after they are adopted," Kuchma said. "I repeat I am ready for compromise."

But Yushchenko spokeswoman Iryna Herashenko said the opposition's demands remained the same.

"President Kuchma must first sack the government, which discredited itself and was linked to rigging the election, and the election commission," she said. "A compromise always starts with a first step, and so far no first step has been taken."

The heart of Kiev remained clogged with protesters. Civil servants queued up again outside their offices Monday to see if the protesters would let them through.

"The whole system has been paralyzed. It's like a broken computer," said one of several hundred finance ministry officials blocked by protesters from entering her office.

The mediators are Polish President Aleksander Kwasniewski, a pivotal figure in the region, Lithuanian President Valdas Adamkus, Russian envoy Boris Gryzlov and Solana.







Today's Top News
Top World News

Key economic policies mapped out for 2005




Hu shares views with Chirac over phone




SARS vaccine found safe in test




Probe into coal mine blast begins in earnest




Schroder opens bid to broaden China trade




Vanuatu PM assaults Chinese ambassador