Family issues may impact development
By Wu Chong (China Daily)
Updated: 2004-12-06 00:41
China has vowed to link family issues with the national development agenda and the United Nations Millennium Development Goals to ensure the sustainable and co-ordinated growth of the economy and society.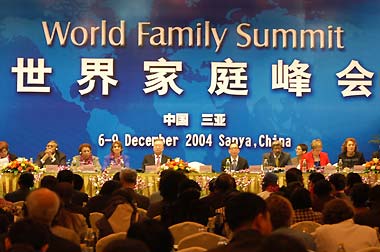 The World Family Summit kicks off Monday in Sanya, a tourist resort in South China's Hainan Province. [newsphoto]

Gu Xiulian, vice-chairperson of the Standing Committee of the National People's Congress, made the remarks at the four-day World Family Summit which kicked off yesterday in Sanya, South China's Hainan Province.

The country's social security system is under pressure from many changes in family structure, especially the rapid transformation from extended families to nuclear families, said Gu.

Other changes include an increase in poor urban families and an unbalanced sex ratio at birth.

Last year, nearly 22 million urban people, mainly women and children, had low income levels, according to the National Population and Family Planning Commission (NPFPC).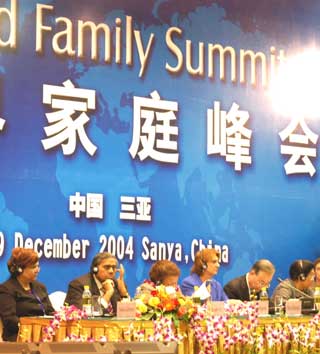 The World Family Summit begins in Sanya, a tourist resort city in South China's Hainan Province December 6. [newsphoto]

"The status of women in both the family and society needs to be further improved," noted Gu.

She said the Law on Protection of Women's Rights and Benefits, currently being amended, will give more comprehensive consideration to women's rights and include provisions against family violence, for example.

Gu also called for further efforts to improve reproductive health services for adolescents, migrants and marginalized groups.

"We are facing pressing challenges in curbing the spread of HIV/AIDS epidemic and reducing unwanted pregnancies, especially unwanted pregnancies and unsafe abortions among adolescents," she said.

Experts echoed that there is strong evidence showing family units are becoming another important medium of AIDS transmission.

"Almost half of the HIV carriers in China are women, many of whom were infected by their husbands and continue to spread the virus to their children," said Jing Jun, professor with Tsinghua University.

"It is not that easy to prevent AIDS transmissions between a couple, if one party has multiple unsafe sexual relations."

Khalid Malik, UN resident co-ordinator in China, added the movement of migrants inside China is unforeseen in global history and has huge implications to families affected.

"It is estimated that there are around 120 to 140 million rural migrants across the country - which means about 24 to 28 million immediate families could be affected by migration (base on 5 members per family), not even counting extended families," said Malik.

In a view of the future family structure in China, Gu said smaller families may be one of the leading trends.

NPFPC Vice-Minister Zhao Baige gave an account of four upcoming changes in Chinese family issues.

First, due to the effect of globalization in terms of economy and information technology, greater attention will be paid to the impact on family growth, she said.

Second, women will play a more important role in families as they are empowered with more say in economical and social issues, Zhao added.

In addition, gender equality will be better emphasized in family development, she said. And a wider participation of males in family affairs will be encouraged.

Last, further highlight will be shed upon a co-ordinated relationship between economic and social growth and family development.

"It should be remembered that every member of a family is endowed to benefit from the social development, including the elderly and children," noted Zhao.

Aware of the new families types in China such as single-parent or homosexual family, Zhao emphasized that the government will continue to promote the leading role of mainstream Chinese culture in the society, while giving more tolerance to other family forms.

The summit, held between December 6 and 9, has attracted more than 300 participants from 48 countries and regions.

It aims to pass a Sanya Declaration and urged the UN to integrate the family perspective into its fifth anniversary review of its Millennium Development Goals.

A wide range of topics linking family issues with the UN goals, such as sustainable development, poverty eradication, education, AIDS prevention and reproductive and maternal health, are to be discussed.




Today's Top News
Top China News

Record deals inked with Germany, Italy




US against Taiwan's moves to alter names




Presidents tout strong relations with Italy




Poor mines barred, on hold




Swan Lake protection needs more attention




Khatami: Iran's democratic reforms failed