Record deals inked with Germany, Italy
By Sun Shangwu, Jiang Wei and Zhang Jin (China Daily)
Updated: 2004-12-06 00:41
A record 22 agreements valued at billions of US dollars were signed yesterday in Beijing between China and Germany while a series of deals were sealed between China and Italy.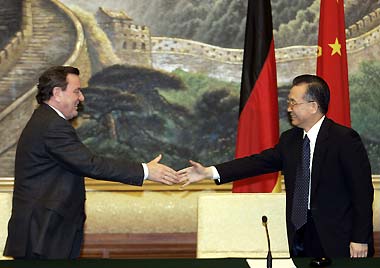 German Chancellor Gerhard Schroeder (L) shakes hands with Chinese Premier Wen Jiabao after a joint news conference at the Great Hall of the People in Beijing December 6, 2004. [Reuters]

The agreements with Germany range from financial co-operation to the purchase of Airbus jetliners.

Before the signing of the agreements, Premier Wen Jiabao held talks with visiting German Chancellor Gerhard Schroeder at the Great Hall of the People.

Wen described their gathering as a "family meeting" to show the close partnership.

The two governments have decided to set up a hotline to better communicate with each other.

Other agreements include bilateral co-operation in sectors such as railway, small and medium enterprises, technology, finance, purchase of aircraft and railway locomotives as well as the establishment of several joint ventures.

The bilateral trade volume between the two countries is expected to reach US$50 billion this year, said Schroeder at the press conference, adding the volume will be doubled in 2010.

Most of the schedule for the German leader's sixth working visit to China was devoted to expanding trade ties and tapping China's booming market.

Besides Beijing, he will also tour Changchun, capital of Northeast China's Jilin Province, to find economic opportunities there.

"This is the important message sent by German Government to take part in China's campaign to develop western areas and the invigoration of the old industrial base in Northeast China," said Wen.

The Chinese Government has encouraged foreign investors to consider the relatively backward western and Northeast China, which boast rich natural resources and a solid industrial base, to boost local development.

Schroeder said economic development in Northeast is in a transitional period and the co-operation will be good for both sides.

Volkswagen signed an agreement with the First Automotive Works Group (FAW) to set up a joint venture in Dalian to produce automobile engines.

"The establishment of this company will play an example role in brining foreign capital to the old industrial base in Northeast China," said FAW General Manager Zhu Yanfeng in an interview with China Daily.

At the press conference, Schroeder again called for an end to the European Union's 15-year-old arms embargo on China by saying that "my opinion hasn't changed."

Wen called the ban "the product of the Cold War" and the continuation will be not good for the "strategic partnership" between China and Europe.

"The requirement of the Chinese side for lifting the ban does not mean that China is anxious to purchase weapons from European countries, but we oppose discrimination," said Wen.

Describing China-Europe relations as "the best in history," Wen added that equality, trust and mutual benefit is the basis for Sino-European relations.

Wen will leave Beijing for The Netherlands today to attend the seventh China-EU summit.

During their talks, Wen told Schroeder that China welcomes Germany to play a "bigger role" in international affairs and wants to work with Germany in anti-terrorism and peace-keeping fields.

Wen also called for respecting cultural diversity and equal dialogues between different civilizations, according to a Chinese Foreign Ministry spokeswoman.

He encouraged the two countries to conduct exchanges in culture and education to increase mutual understanding and friendship.

Schroeder said Germany will continue to stand by the one-China policy and positively push the advancement of China's relations with Germany and Europe.

Arriving in Beijing yesterday for a three-day working visit, Schroeder will also meet President Hu Jintao and top legislator Wu Bangguo today before leaving for Jilin Province.

The two leaders yesterday held a panel discussion with entrepreneurs from the two countries.

The German leader yesterday also attended the laying of a cornerstone for a new Beijing factory built by DaimlerChrysler and a Chinese joint-venture partner.

Italians sign big trade deals

An Italian business delegation accompanying visiting President Carlo Ciampi clinched big deals in China yesterday.

The Italian delegation came after their French counterparts notched up an array of deals worth of 4 billion euro (US$5.2 billion) in October, and was followed by German entrepreneurs who arrived together with German Chancellor Gerhard Schroeder yesterday.

Although the total investment figure of the signed deals has not yet been worked out, "it will be considerable," said a member of the Italian delegation, who did not give his name.

The deals cover a wide range of sectors such as energy, infrastructure construction, transportation and telecommunications.

Skylogic, under Eutelsat, one of the world's leading satellite operators, yesterday signed a partnership agreement with China Satellite Communications Corporation, a major Chinese telecommunications operator.

The two partners will kick off co-operation in 2005 after approval by authorities in the respective nations.

They will begin to provide satellite communications services for businesses, governments and media of both sides when the time is ripe.

Giuliano Berretta, chairman and managing director of Eutelsat, said: "The project is expected to facilitate relations and interchanges between the two countries' satellite communications sectors."

Pirelli, an Italian tyre manufacturer, will establish a joint venture in Central China's Henan Province next year, with Chinese partner Shanghai-listed Aeolus.

"Our investment in the joint venture will amount to nearly US$200 million in the coming three years," said Francesco Gori, president of Pirelli's tyre business.

Leading Italian automaker Fiat has also vowed to increase its presence in China by launching new models of vehicles, Luca di Montezemolo, the president of Fiat, told China Daily.

The company is the largest Italian investor in China.

Italian companies have also expressed interest in taking advantage of the Beijing Olympic Games, to be held in 2008, saying they are ready to provide financial and telecommunications services for the event.

Statistics show that nearly 500 Italian enterprises do business in China, and they invested US$300 million in the Chinese market in 2003, up 80 per cent on a yearly basis.

In addition to China's coastal provinces, which have attracted the most investment from foreign companies, Italian enterprises are also considering investing in Northeast and western China.

The Italian companies' spending spree comes as major European countries are making moves to penetrate an increasingly growing Chinese market.

China, in line with its World Trade Organization commitments, will open up more sectors to foreign investors, and has attracted the world's leading multinational corporations.

Italy surely does not want to lose such an emerging market.

"China's fast-growing market provides big room for Italian enterprises," said Beniamino Quinieri, president of the Italian Trade Commission.





Today's Top News
Top China News

Record deals inked with Germany, Italy




Presidents tout strong relations with Italy




Poor mines barred, on hold




Polluters ignore environmental laws




Khatami: Iran's democratic reforms failed




9 killed in attack on US mission in Saudi