Presidents tout strong relations with Italy
By Zhao Huanxin (China Daily)
Updated: 2004-12-06 00:15
China and Italy will maintain momentum in relations and strengthen beneficial co-operation to further deepen their all-round strategic partnership, leaders said yesterday.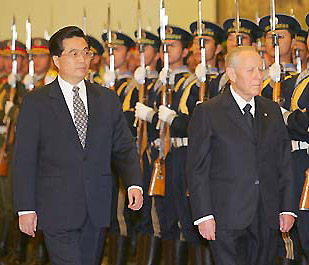 President Hu Jintao [L] and Italian President Carlo Azeglio Ciampi [R] review the honor guards during a welcome ceremony in Beijing December 6, 2004. [Xinhua]

During the past 34 years since diplomatic relations were established, Italy has become China's important trading, scientific and technological partner, said President Hu Jintao during a meeting with his Italian counterpart, Carlo Azeglio Ciampi.

A wide-ranging consensus was reached between the leaders and a series of agreements on culture,protection of historical heritage, sports, quarantine policy and other topics were inked after their meeting.

Hu expressed gratitude to the Italian leader for Italy's stance on sticking to one-China policy and opposing "Taiwan independence" as well the positive attitude on lifting the EU's ban on weapons sales to China.

Hu proposed China and Italy continue their high-level exchanges and enhance bilateral political trust.

"The two sides can give full play to the Sino-Italian governmental commission to better arrange and co-ordinate bilateral exchanges and co-operation in various fields,'' Hu said.

Efforts should be made to push ahead the economic and trade co-operation to a new high, Hu said. China will provide support and aid to Italian enterprises that plan to invest in China, as well as encourage additional Chinese companies to create new businesses in Italy.

The sides should enlarge exchange and co-operation in culture, education, science and technology, environmental protection and tourism, the Chinese president said.

The sides should also strengthen co-operation in fighting terrorism, encouraging non-proliferation, combating cross-national crime, and fostering sustainable development, Hu said.

Moreover, co-operative relations in Sino-EU and Asian-EU frameworks and in the United Nations will be pushed forward.

President Ciampi echoed Hu's suggestions on improving relations and said the two nations should advance their co-operation in political, economic, cultural and educational sectors.

He said China's development is an importance factor in maintaining stability and peace in the world.

Yesterday morning, Premier Wen Jiabao also met the Italian President, saying that China and Italy can strengthen their co-operation in a number of areas to "enrich bilateral relations."

Earlier this year, Beijing and Rome agreed to set up "full-range strategic partnership" and formed a China-Italy governmental commission to guide the growth of relations.

The president compared the current visit with his first visit to China in 1983 as governor of the central bank of Italy and said Italy-China co-operation has been fruitful.

Ciampi, accompanied by a number of Italian cabinet ministers arrived in Beijing on Saturday.




Today's Top News
Top China News

Record deals inked with Germany, Italy




Presidents tout strong relations with Italy




Poor mines barred, on hold




Polluters ignore environmental laws




7 blasts reported in Spain after ETA threats




Family issues may impact development