7 blasts reported in Spain after ETA threats
(Agencies)
Updated: 2004-12-06 21:00
Seven explosions hit Spain on Monday, wounding at least two or three people, after the Basque separatist group ETA threatened to set off a series of bombs, Spanish officials and media said.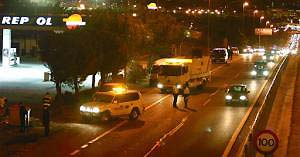 Police examine a garbage container, seen on left of photo, where a small device exploded by a gas station on the outskirts of Madrid Friday Dec. 3, 2004. [AP]
Officials said the people were wounded in a bomb in Santillana del Mar in northern Spain, and said another bomb exploded in Ciudad Real to the south of Madrid.
El Pais newspaper said on its Web site explosions had also gone off in Leon in the north and Malaga in the south. El Mundo's Web site said explosions were also reported in Avila, northwest of Madrid. Media also reported two more explosions.
None of the sites are within Spain's Basque Country, which is made up of three provinces in the north of Spain that Basque nationalists say are part of a greater Basque homeland including Navarra and three provinces in France.
ETA, fighting for an independent Basque state in northern Spain and southwestern France, Friday detonated five bombs simultaneously at service stations along major highways around Madrid.
Two police officers were slightly wounded by one of those bombs which were hidden in places such as garbage containers.
Monday is a public holiday in Spain to celebrate the 1978 constitution, a source of pride to most Spaniards marking the return to democracy after the four-decade dictatorship of General Francisco Franco. Police had warned of a possible ETA attack.
ETA has killed nearly 850 people since 1968 in a bombing and shooting campaign for an independent Basque state.
But until Friday it had been relatively inactive since the March 11 train bombings by Islamic militants, which the then government at first erroneously blamed on ETA.
"ETA knows it only has one destiny and that is the end of violence and leaving arms behind. ETA knows the rule of law, which is what democracy is, has been and will be stronger than any attempt to change the rules through violence," Prime Minister Jose Luis Rodriguez Zapatero told reporters when asked about the ETA threats Monday.
Today's Top News
Top World News

Record deals inked with Germany, Italy




Presidents tout strong relations with Italy




Poor mines barred, on hold




Swan Lake protection needs more attention




Khatami: Iran's democratic reforms failed




9 killed in attack on US mission in Saudi