Putin first Russian chief to visit Turkey
(Agencies)
Updated: 2004-12-06 12:31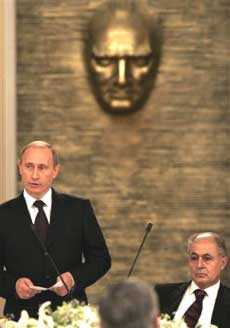 Russian President Vladimir Putin, left, makes a speech as his Turkish counterpart Ahmet Necdet Sezer listens during a dinner at the Presidental Palace of Cankaya in Ankara, Turkey, Sunday Dec. 5, 2004. Russian President Vladimir Putin made the first official visit by a Russian leader to Turkey, looking to strengthening an economic relationship that is turning a country that has been a foe since the times of the Ottomans and the czars into a newfound trading partner. Putin was to have dinner with President Ahmet Necdet Sezer before official talks Monday. A bust of Turkey's founder Ataturk is seen in the background. [AP]

Russian President Vladimir Putin made the first official visit by a Russian leader to Turkey on Sunday, seeking to boost trade and counterterrorism cooperation between the two countries, which have been rivals since the time of the czars and sultans.

Putin's two-day visit will include a business forum and is expected to produce cooperation agreements on defense, finance and energy, as well as a friendship and partnership declaration.

"We are here to take courageous decisions," Putin said at a dinner with his Turkish counterpart, President Ahmet Necdet Sezer, ahead of official talks Monday. "The visit will give the opportunity for both economic and trade relations between Russian and Turkey to open up to new horizons."

Sezer said Putin's visit "will undoubtedly be a cornerstone in moving cooperation and relations between our two countries toward a multifaceted partnership." He added that Turkey was determined to cooperate with Russia in the fight against terrorism.

Russia has urged Turkey to crack down on charities it claims channel money and weapons to Chechen rebels. In an apparent gesture to Putin, Turkish authorities apprehended nine suspected Chechen militants and three pro-Chechen Turks last week, and the Anatolia news agency reported Sunday that police linked them to al-Qaida.

Many Turks trace their ancestry to Chechnya or elsewhere in the Caucasus and sympathize with fellow Muslims in the war-ravaged region, where Putin has pursued a tough policy against rebels seeking independence.

In Istanbul, some in a group of 2,000 protesters carried a banner reading: "Murderer Putin! Get out of Turkey!" A Caucasus group also protested his visit and Chechnya policies before placing a black wreath in front of the Russian Consulate.

Security was tight for Putin's visit, with a number of streets closed to traffic and some 3,000 police officers assigned to protect Putin, authorities said.

The visit marks a milestone in relations between two countries whose meetings in past centuries often came on the battlefield in struggles to control land from the Balkans to the Black Sea and beyond to China's borders.

The Ottoman Empire and Czarist Russia vied for regional supremacy, Turkey was NATO's easternmost Cold War outpost, and Russia and Turkey have fought for influence in Turkic states that gained independence in the 1991 Soviet collapse.

Religion also has been a source of friction between predominantly Orthodox Christian Russia and Islamic Turkey.

Putin has bickered with Turkey over Russian access to the West from the Black Sea through Turkey's Bosporus straits, which Istanbul said was packed dangerously with tankers carrying Russian oil.

But "Russia and Turkey are moving toward cooperation and the flourishing it will bring with it," Putin said before the trip, according to the ITAR-Tass news agency.

Bilateral trade increased by 60 percent in the first half of this year compared with the same period a year ago, reaching $4.6 billion, according to Russia's trade ministry. That trade may exceed $10 billion for the year.

A pipeline carries Russian natural gas beneath the Black Sea to Turkey, a major consumer, while Turkish companies are active in Russia's booming retail, construction and brewing industries.

Turkey's Mediterranean resorts are popular among Russians, fostering familiarity. Putin said his own vacations there helped change his outlook, ITAR-Tass reported.




Today's Top News
Top World News

Key economic policies mapped out for 2005




Hu shares views with Chirac over phone




SARS vaccine found safe in test




Probe into coal mine blast begins in earnest




Weekend attacks kill at least 70 in Iraq




25 dead, 19 missing at Guizhou landslides