Israel, Egypt warm ties with prisoner swap
(Agencies)
Updated: 2004-12-06 12:25
In a series of dramatic steps capped Sunday by a high-profile prisoner swap, Israel and Egypt are moving rapidly to improve relations, seizing the opportunity for a Middle East peace deal presented by Yasser Arafat's death.
A year ago, Egypt's president dismissed Israel's prime minister as incapable of making peace. Today, he calls Ariel Sharon the region's best chance for an end to hostilities. The change in attitude is also apparent in Syria and across the Gulf, as Arab nations signal they are ready to work with Sharon, a man they long have described as a butcher.
But it was Sunday's Israeli-Egyptian prisoner swap that provided the most striking example. Egyptian President Hosni Mubarak's decision to Azzam Azzam, an Israeli Arab convicted of spying for Israel, in exchange for six Egyptian students held by Israel reversed his government's long-standing policy ! and eliminated a central point of friction between the two countries over the past eight years.
Israel may also release Palestinian prisoners in the future, Sharon said.
Egyptian officials had accused Azzam of providing Israel with secrets about Egyptian factories ! by giving women's undergarments soaked in invisible ink to an Egyptian accomplice, who was said to have used the ink to pass on the information.
The six freed Egyptian students had sneaked into Israel in August and were arrested on suspicion they tried to kidnap soldiers and commandeer a tank.
The transfer took place at the Taba crossing between the two countries.
In the past month, Egypt also has made overtures toward returning its ambassador to Tel Aviv, four years after it summoned the ambassador home to protest what it called excessive Israeli force toward Palestinians.
Relations between Israel and Egypt, the first Arab nation to recognize the Jewish state in 1979, have been particularly cold during Sharon's tenure and during the past four years of Palestinian-Israeli violence.
The recent warming appears to be a way to prepare the political ground ! and the Arab and Egyptian public ! for Israeli-Egyptian cooperation toward a broader peace.
Syria also has indicated a fresh willingness to negotiate a peace deal with Israel, and the Bahraini foreign minister said recently that peace was within reach.
Last week, in another striking departure, Egypt's Mubarak said that if the Palestinians could not achieve progress in Sharon's time, it would be very difficult afterward.
"He (Sharon) is capable of pursuing peace, and he is capable of reaching solutions, if he wants to," Mubarak said. In October 2003, Mubarak had dismissed Sharon as a man having no "intention to start working for peace."
Gamal Abdel Gawad, an expert at Al-Ahram Center of Strategic Studies in Cairo, said Egyptian policies toward Israel are taking "a new, more realistic turn."
"This is a complete departure from the old concept. It will certainly set the stage for a more dramatic improvement," he said.
The Israelis have certainly noticed the shift.
A leading Israeli newspaper, Yediot Ahronot, described the overtures as "a new atmosphere" and a "honeymoon." Shimon Shiffer, one of the paper's senior correspondents, called it "the beginning of a wonderful friendship."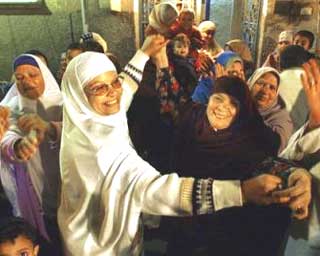 Um Mustafa, mother of Mustafa Mahmoud one of the six free Egyptian students who was captured sneaking into Israel and jailed since August, left, celebrates with her relatives and neighbours marking the release of her son Sunday Dec. 5, 2004 in Cairo. Israel and Egypt reached a deal Sunday to free six Egyptian students captured sneaking into Israel and jailed since August, in a prisoner's swap with Azzam Azzam, the convicted Arab-Israeli man jailed since 1996. [AP]

In a statement, Sharon said Azzam's release was "a great additional contribution to the strengthening of the Israeli-Egyptian relations." The prime minister also thanked Mubarak for saying that peace was possible under his leadership, and said "he believes the two can achieve great things for the coming generations."

Raanan Gissin, a senior Sharon aide, also noted Egypt's recent decision to step up efforts to control its border with the Gaza Strip, where Israel maintains that arms are smuggled through tunnels.

Gaza is a key reason for both sides' desire to improve relations.

Egypt hopes that a new Palestinian leadership will help Israel's planned pullout from Gaza ! viewed as a step toward broader Mideast peace ! go smoothly.

Despite the recent good feelings, many pitfalls remain. The two countries' efforts at improving relations will in large part depend on the level of Israeli-Palestinian violence in coming months, and whether Palestinian elections to replace Arafat go smoothly.

As for the ambassador's return, Israeli Radio reported Sunday that once Israeli-Palestinian peace negotiations resume, Egypt is prepared to return the ambassador. But Mubarak's spokesman, Maged Abdel Fattah, said only that Egypt is considering doing so "at an appropriate time."

And on Cairo's streets, there is still anger over the shooting deaths last month of three Egyptian border policemen by Israeli soldiers. Israel called the shooting an accident and apologized, but the incident has marred efforts to change Egyptian views.

"As an Egyptian citizen I consider this as a stab at our national dignity," Mustafa Bakri, editor-in-chief of the opposition Nasserite weekly Al-Osboa, said of Azzam's release. "Mubarak's promises have evaporated like smoke in the air."




Today's Top News
Top World News

Key economic policies mapped out for 2005




Hu shares views with Chirac over phone




SARS vaccine found safe in test




Probe into coal mine blast begins in earnest




Weekend attacks kill at least 70 in Iraq




25 dead, 19 missing at Guizhou landslides