Ukraine opposition leader opens campaign
(Agencies)
Updated: 2004-12-06 09:14
Ukraine opposition leader Viktor Yushchenko kicked off campaigning for the Dec. 26 presidential election rerun Sunday with a call for quick passage of anti-fraud legislation. Supporters signed up by the thousands to monitor balloting and ensure a fair vote.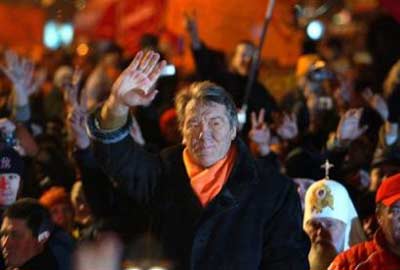 Ukrainian opposition leader Viktor Yushchenko waves to supporters during a mass rally at the Independence Square in downtown Kiev, Sunday, Dec. 5 2004. Yushchenko urged tens of thousands of supporters gathered at Kiev's main Independence Square to maintain their blockade of official buildings to ensure parliament passes the electoral changes. [AP Photo]
"We are witnessing a struggle between forces of good and forces of evil," Yushchenko told throngs of chanting supporters gathered at Kiev's main square and waving his campaign's orange flags.
"The entire world is applauding our victory. The entire world is proud of Ukraine."
While thousands of pro-Yushchenko demonstrators marked two weeks of a round-the-clock vigil in downtown Kiev, supporters of his rival, Prime Minister Viktor Yanukovych, were largely out of sight in eastern regions near Russia ¡ª Yanukovych's stronghold.
The Moscow-backed Yanukovych has not been seen in public since Friday's Supreme Court ruling canceling his Nov. 21 runoff victory over Yushchenko because of fraud. On Sunday, campaign representatives did not answer repeated phone calls.
The Western-leaning Yushchenko said little about his campaign proposals, but he repeated accusations that outgoing President Leonid Kuchma had blocked key electoral changes through his loyalists in this former Soviet republic's parliament.
He urged demonstrators to maintain their blockade of official buildings.
"We insist that the parliament comes back from recess and considers the issues that must ensure a fair, transparent and democratic vote on Dec. 26," Yushchenko said.
The election has led to a tug-of-war between Moscow and the West, which bristled at Russian President Vladimir Putin's heavy-handed support for Yanukovych. Moscow, which considers this nation of 48 million people part of its sphere of influence and a buffer between it and NATO's eastern flank, fears Ukraine will tilt further to the West under Yushchenko.
On Saturday, the parliament, Verkhovna Rada, adjourned for 10 days after pro-government factions blocked opposition-demanded changes.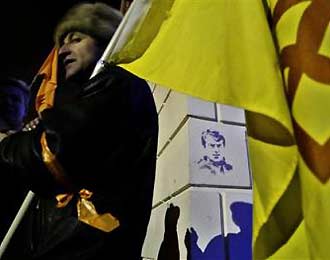 A supporter of opposition leader Viktor Yushchenko holds a Ukrainian flag during a rally at Independence Square in Kiev, Sunday, Dec. 5 2004, with Yushchenko's portrait painted on a wall. Yushchenko on Sunday kicked off campaigning for the Dec. 26 presidential rerun with a call for quick passage of anti-fraud legislation as supporters began signing up en masse to monitor balloting and ensure a fair vote. [AP Photo]]
Yushchenko said the changes must ban voting by absentee ballot and at home, which he said was used by Yanukovych supporters to rig the Nov. 21 runoff. The changes also must ensure opposition supporters are represented on election commissions across the nation, he told the rally.
Yushchenko's fiery ally, Yulia Tymoshenko, said the public protests that have swept Ukraine have had an impact on the government, leaving less room for official fraud.
"Something has changed, thanks to the people," she said.
Thousands of protesters clad in Yushchenko's campaign color of orange ¡ª many grimy after living for two weeks in the sprawling tent camp on a Kiev street ¡ª have vowed to remain until new election laws are passed.
"We can stay here until the end," said Yaroslav Bileko, 19, crawling out of his tent and slipping into an ankle-length black wool coat. "Even though we are tired physically and emotionally, the thought of democracy warms our souls."
Demonstrators filled out questionnaires Sunday to sign up for jobs as campaigners, monitors or election commission members. Thousands volunteered to work as monitors and activists in the Yanukovych stronghold region of Donetsk, said Yushchenko campaigner Mykola Moskovsky.
Western observers have documented evidence of vote-rigging in the east in Yanukovych's favor, including multiple voting, falsification of voter lists and abuse of absentee ballots. Yanukovych's camp claims it has evidence of voting irregularities in Kiev and some western regions.
The Organization for Security and Cooperation in Europe said it will deploy a full-fledged observer mission for this month's rerun. More than 1,000 people plan to arrive from Canada, home to many people of Ukrainian origin, the Ukrainian Canadian Congress said.
In parliament, a loose coalition of communists, socialists and pro-government lawmakers said they would back electoral changes only in exchange for the opposition's vote on a constitutional reform transferring some presidential powers to parliament.
Yushchenko accused government foes of trying to trim presidential powers because they feared he would win the rerun.
Kuchma, in turn, blamed the opposition for reneging on a European-brokered compromise calling for parliament to vote for the electoral and constitutional changes all at once. Kuchma, who supported Yanukovych, has called for a new round of talks involving European sponsors, but they appeared increasingly unlikely.
Tymoshenko warned that Yushchenko would face a tough task of living up to expectations after the excitement of round-the-clock vigils.
"It's a terrible responsibility, and I believe Yushchenko feels it ¡ª not to let die that orange flame which has burnt so brightly here," she said.
Today's Top News
Top World News

Key economic policies mapped out for 2005




Hu shares views with Chirac over phone




SARS vaccine found safe in test




Probe into coal mine blast begins in earnest




Weekend attacks kill at least 70 in Iraq




25 dead, 19 missing at Guizhou landslides