Key economic policies mapped out for 2005
(China Daily)
Updated: 2004-12-06 08:44
Further macro control and restructuring will top China's economic agenda next year, the Central Economic Conference decided Sunday.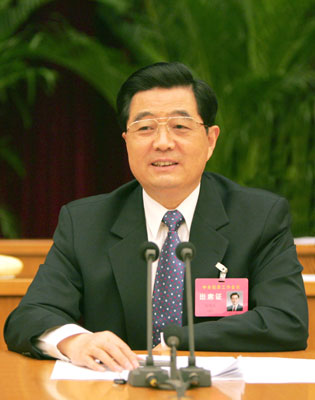 Chinese President Hu Jintao addresses during a central economic conference in Beijing Dec. 3, 2004. The three-day annual conference closed Sunday. [Xinhua]
Other major tasks for 2005 include promoting rural development, economic reform, further opening to the outside world and social harmony.
The goal is to "maintain steady and relatively fast economic growth with more emphasis on quality and efficiency," the three-day conference concluded.
The event was attended by all nine members of the Standing Committee of the Political Bureau of the Communist Party of China (CPC) Central Committee, including President Hu Jintao and Premier Wen Jiabao. It summed up this year's economic situation and looked ahead to 2005.
The leaders found this year's macroeconomic policies helped restrain some unhealthy factors and avoid drastic ups and downs in China's economic development.
"The macroeconomic control policy will be strengthened and improved next year," stated the decision made by the Communist Party of China (CPC) Central Committee and the State Council at the conference.
The conference scored the government's macro-control policies and measures over the past year as "timely, accurate and effective."
Statistics show China's investment in fixed assets totalled 4.5 trillion yuan (US$544 billion) by September this year, up 27.7 per cent year-on-year, but down 15.3 percentage points compared with the growth rates of the first quarter of this year.
China has also witnessed an evident slowdown of investment in some over-heated sectors, such as steel, cement, aluminium and real estate. Stricter control over loans and land use is believed to have played an important role in holding back this investment.
Market and control
The conference called for further efforts in handling the relationship between the market mechanism and macro control, optimizing the economic structure, promoting co-ordinated development and improving related systems and mechanisms.
"We must set the targets of economic growth properly and handle well the relationship between speed, quality and efficiency. The emphasis should be fully put on the quality and efficiency of economic growth," the decision stated.
A prudent fiscal and monetary policy will be enforced and efforts will be made to bring excessive growth in investments on fixed assets under control in 2005. Free rein will be given to the economic and legal means of macro control, it stated.
Efforts will be redoubled to quicken the development of agricultural production in rural areas and improve farmers' incomes.
The conference revealed that China's grain production has reached a crucial turning point, seeing a rise after years of declines, leading to a great increase in farmers' incomes.
Reform and opening
According to the conference, next year's reforms will be centred on solving deep-set contradictions and issues that affect overall economic development.
Efforts will be made to increase economic energy and competitiveness and continue to deepen corporate reforms; improve the supervisory management system for State-owned assets, set up and improve a modern corporate system, actively promote the distribution of State-owned economy and internal restructuring, and prevent the loss of State-owned assets. Efforts will also be made to encourage, support and guide the development of the private sector.
And the country is to open its doors wider to the outside world by speeding up transformation of foreign trade and looking for further foreign trade and more overseas markets.
China should co-ordinate domestic economic development and its opening-up endeavours in order to sharpen its international competitiveness against the backdrop of economic globalization and sustained, rapid economic growth in China, according to the decision.
Foreign investment should be used wisely to upgrade the nation's technical innovation capabilities, the decision of the conference stated.
The decision also encourages more Chinese enterprises to go overseas and strengthen economic and technological co-operation with their foreign partners.
The policy-makers also set energy and resources saving as one of the important targets of optimizing the country's economic structure.
The meeting called for resolute measures to put an end to the current economic development mode characterized by high consumption of energy and resources, heavy pollution and low economic returns, and strive for a complete transformation of the economic growth mode.
China will develop a resources-efficient development mode with Chinese characteristics through attaching importance to resources development and saving, promoting a recycling economy to create saving-oriented industrial and consumption structures.
The country will focus on solving the urgent problems of the people in a bid to build a harmonious society, according to the conference's decision.
The meeting set tasks in promoting social equality, stressing expansion of employment, improvement of social security system, adjustment of income distribution patterns and acceleration of the development of social betterment.
The decision calls for efforts to guarantee the basic standard of living of urban residents.
Today's Top News
Top China News

Key economic policies mapped out for 2005




Hu shares views with Chirac over phone




SARS vaccine found safe in test




Probe into coal mine blast begins in earnest




Weekend attacks kill at least 70 in Iraq




25 dead, 19 missing at Guizhou landslides