String of Iraq suicide attacks kill 16
(Agencies)
Updated: 2004-12-05 10:47
Suicide car bombs struck Iraqi police and Kurdish militiamen in Baghdad and northern Iraq on Saturday, killing at least 16 people, wounding dozens, and again demonstrating the lethal reach of Iraq's insurgency just weeks ahead of crucial elections.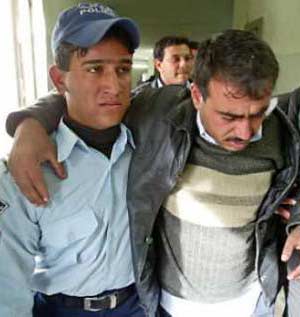 An Iraqi police officer guides a wounded civilian into al-Yarmuk hospital after he was hurt in an early morning car bomb attack near a police station beside the heavily protected so-called 'Green Zone' in central Baghdad, December 4, 2004. Twin suicide car bombs blew up outside a police station, killing seven people and wounding 57 in the latest deadly strike against Iraq's shaky security forces. [Reuters]
The U.S. commander in Iraq, Gen. John Abizaid, acknowledged that the country's homegrown forces aren't yet up to the task of ensuring secure elections, requiring the planned increase in U.S. troops. More than 42 Iraqis have been killed in the last two days alone.
But U.N. special envoy Lakhdar Brahimi criticized the military's hardline approach to the insurgency and said credible elections cannot be held Jan. 30 under the current conditions.
Meanwhile, the insurgents pursued their deadly campaign against American troops. Two U.S. soldiers were killed by roadside bombs in Baghdad and north of the capital Saturday, and the military said two other Americans died the day before in suicide car bombings of their post near the Jordanian border.
With the country still so unstable and elections eight weeks away, the U.S. military plans to increase its troop strength from 138,000 to about 150,000 by mid-January ¡ª slightly more than during the 2003 invasion that toppled Saddam Hussein's regime ¡ª in an attempt to keep order during the vote. The primary concern is Iraq's Sunnis, who generally oppose the vote and are believed to be fueling the insurgency.
In candid remarks, Abizaid admitted the troop increase wasn't what Washington had envisioned.
"It had been our hope that we would be able to have a combination of increases that mainly were Iraqi troops' increases," Abizaid, the head of U.S. Central Command, said.
"And while the Iraqi troops are larger in number than they used to be, those forces have to be seasoned more, trained more. So, it's necessary to bring more American forces."
Speaking to reporters at a regional security conference in Bahrain, Abizaid declined to speculate on when the Iraqi forces would be ready or say how many they now number. But he said they were "constantly improving."
Brahimi, however, said the United States and the Iraqi government should reconsider their reliance on force to eliminate insurgents.
In an interview published Saturday in a Dutch newspaper, the U.N. envoy insisted the country cannot go ahead with the elections "if conditions remain the same."
"It's a mess in Iraq. The international community, hopefully with the Americans, must help the Iraqis to clean up the mess," he said.
Brahimi, an Algerian, was sent to Iraq to help form the interim government that took power on June 28.
Officials had hoped the recent U.S.-led assault on the insurgent hotbed of Fallujah would put the rebels on the defensive. But the latest attacks showed they are still highly capable of hitting back where they choose.
Saturday's car bombs in Baghdad went off nearly simultaneously at about 9:30 a.m. by a police station across the street from a checkpoint leading to the heavily fortified Green Zone, which houses Iraqi government offices and several foreign missions.
Bursts of automatic fire followed the thunderous detonation, which shook windows hundred of yards away in buildings on the opposite side of the Tigris River.
Health officials said the bodies of seven people killed by the blast and 59 wounded were brought to two Baghdad hospitals. Officials said most of the victims were police officers, but the identities of all the dead were not yet known.
Adel Hassan, a policeman who survived the attack with head injuries, said at a hospital crammed with victims that a "suicide car bomber sped into our place (the police station) ... and then there was an explosion."
Jordanian terrorist Abu Musab al-Zarqawi's militant group claimed responsibility for the attack, as it had done for a highly coordinated assault on a police station west of Baghdad the day before in which insurgents killed 16 police, looted the station's armory and freed dozens of prisoners. The claim, like the previous one, appeared on an Islamic Web site known for such statements and could not immediately be verified.
In the northern city of Mosul, a suicide bomber exploded his vehicle alongside a bus carrying Kurdish militiamen, killing at least nine people, including seven militiamen and two passers-by, and wounding nine more, officials said. Along with Iraq's majority Shiites, Kurds back the upcoming elections, and the bombing may have been an attempt to drag them into a civil war.
The militiamen were being brought in from the mainly Kurdish province of Irbil to guard Kurdish offices in Mosul, where U.S. and Iraqi forces have been battling insurgents following last month's uprising.
In fierce fighting on Friday, gunmen tried to seize four police stations but were repelled, the U.S. military said. About 70 guerrillas also ambushed a U.S. patrol with roadside bombs, rocket-propelled grenades and small-arms fire. After regrouping, U.S. and Iraqi forces struck back, killing more than two dozen fighters, the military said.
In eastern Baghdad, a roadside bomb killed an American soldier and wounded five others Saturday, the military said. Another bomb near the town of Ghalabiyah, six miles west of the insurgent hotbed of Baqouba, north of Baghdad, hit a truck in a U.S. military convoy, killing a soldier and wounding another, Master Sgt. Robert Powell said.
A suicide car bomb hit an American forward operating base near Iraq's border with Jordan on Friday, killing two U.S. service members, the U.S. command said Saturday. A Marine spokesman said the attack was directed at members of the 1st Marine Expeditionary Force.
Iraq closed its Karameh border crossing into Jordan until further notice, Jordanian officials said.
The killings ¡ª along with two Americans killed in roadside bombs in Baghdad and Kirkuk on Friday ¡ª brought to at least 1,269 the number of U.S. military members to have died since the war began in March 2003, according to an Associated Press count.
Also Saturday, a hospital official said the bodies of four slain men wearing Iraqi National Guards uniforms were found in northwestern Iraq. Friday's grisly discovery in Tal Afar takes to at least 70 the number of remains discovered in and around that town and Mosul, about 30 miles to the east, since Nov. 18.
Police in the northern city of Samarra also came under attack Saturday. Mortars were fired at a station after midnight, wounding two officers. Gunmen injured two policemen in another attack at about 10 a.m., according to police Maj. Sadoon Ahmed Matroud.
Today's Top News
Top World News

Speculative money: A hot potato for China




Rumsfeld to stay as US defense secretary




25 dead, 19 missing at Guizhou landslides




Job company predicts white collar income




Special envoy visits US; One China reiterated




Chinese bodyguards face legal quagmire