Rumsfeld to stay as US defense secretary
(Agencies)
Updated: 2004-12-05 08:47
Donald Rumsfeld is to stay on as US defense secretary, surviving the overhaul of US President George W. Bush's cabinet after his election victory, a senior US official revealed.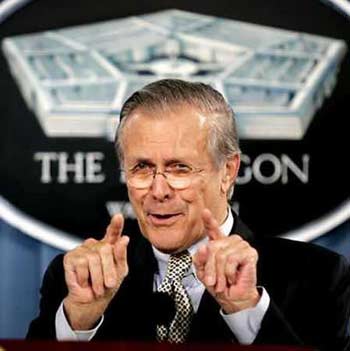 US Secretary of Defense Donald Rumsfeld gestures during a press briefing at the Pentagon November 23, 2004. Rumsfeld is to stay on as US defense secretary, surviving the overhaul of US President George W. Bush's cabinet. [Reuters/file]
The official said Rumsfeld, 72, was staying at the request of Bush as the United States presses crucial campaigns in the war on terror and in Iraq.
The defense secretary, one of the so-called "hawks" of the Bush administration, was closely involved in the decision to invade Afghanistan after the September 11, 2001 attacks, and more controversially Iraq in March, 2003.
"The president and secretary Rumsfeld spoke on Monday, the president asked him to stay, the secretary agreed, and the president is very pleased," the official said late Friday.
"This is a time of real challenge. We are waging a war against terror, and at this critical juncture Secretary Rumsfeld is the right person for this position," the official said.
Rumsfeld is one of the few members of Bush's cabinet to survive key personnel changes after the president's re-election on November 2.
Word that he will be retained came as former New York police commissioner Bernard Kerik was nominated as the country's new homeland security secretary and as Health and Human Services Secretary Tommy Thompson announced his departure.
Other prominent officials, including Secretary of State Colin Powell, Commerce Secretary Don Evans and Homeland Security Secretary Tom Ridge, have already resigned.
Rumsfeld himself would not confirm his status. A Pentagon spokesman would say only that the president and Rumsfeld discussed his future earlier this week, and "the secretary is hard at work."
But Rumsfeld is clearly primed for an unprecedented third term as defense secretary after an extraordinary four years in which he led the US military through two major wars and an unconventional global struggle against Muslim extremists.
A deepening insurgency in Iraq, the Abu Ghraib prisoner abuse scandal, and the failure to find weapons of mass destruction in Iraq -- issues of intense controversy -- show no sign of having dented Rumsfeld's standing with the president.

Neither has the failure to capture Osama bin Laden, the Al-Qaeda leader who set off the wars by sending hijacked airliners into the World Trade Center in New York and the Pentagon in Washington on September 11, 2001.
Rumsfeld's forceful style and impatience with diplomacy alienated European allies offended by his dismissal of them as "Old Europe." It also sparked policy battles with Powell, who resigned November 15.
Rumsfeld's relations with Congress also have been rough.
Members of both parties criticize him for failing to send a large enough force to stabilize Iraq and for refusing to enlarge the army to meet the growing security commitments.
Rumsfeld was the youngest defense secretary ever when he assumed the post for the first time in 1975 at age 43, under former president Gerald Ford.
Now 72, the oldest defense secretary ever, Rumsfeld still bristles with energy.
Even when his future was still publicly in doubt, Rumsfeld staked out his priorities:
"To win the global war on terror, to continue the work in Afghanistan and Iraq, which is part of that war, and to see that we continue the process of transforming the department so that it's appropriate for the 21st century," he said as Powell's resignation was being announced.
But he faces a huge problem in Iraq that threatens to swamp progress on all other fronts.
A guerrilla insurgency that Rumsfeld once denied existed has grown to the point where US forces are again engaged in major combat operations, storming the city of Fallujah and launching raids in Sunni areas to uproot rebel strongholds.
The Pentagon this week said it is upping the number of troops in Iraq to 150,000 -- numbers not seen since the early invasion phase of the war -- to provide security for January 30 elections.
Military officials have cautioned it will take time for newly trained Iraqi security forces to mature, and Democratic lawmakers warn that American forces will be tied down in Iraq for a long time.
With pressure growing in Congress for an increase in the size of the army, Rumsfeld also faces an uphill struggle in his goal of remaking the US military into a smaller, lighter, more agile force enabled by high technology.
Today's Top News
Top World News

Key economic policies mapped out for 2005




Hu shares views with Chirac over phone




SARS vaccine found safe in test




Probe into coal mine blast begins in earnest




Weekend attacks kill at least 70 in Iraq




25 dead, 19 missing at Guizhou landslides