China to force small mines to merge
(Agencies)
Updated: 2004-12-04 13:18
China plans to restructure its mining industry, forcing small coal mines to merge together or join syndicates in an effort to improve safety conditions.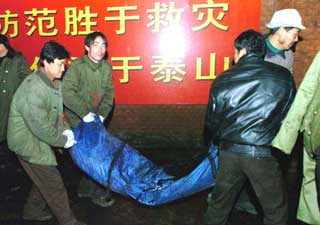 A body of one of the miners is carried out of the mine pit of the Chenjiashan coal mine in Shaanxi Province in the early hours of Wednesday. It has been confirmed all of the over 100 trapped underground in the explosion were dead, bringing the death toll in the accident to 166. [Xinhua]

The National Development and Reform Commission said the nation's 28,000 coal mines would be grouped into 13 clusters for more efficient supply and safety management, the South China Morning Post reported Friday.

Official figures showed 24,000 of the mines were small operations.

More than 60 percent of China's energy demands depend on coal supply and the situation will not change much over the next 20 or 30 years, said Dou Qingfeng, president of the China Coal Information Institute.

Industry analysts say as many as 90 percent of small coal mines should be closed for safety reasons. China outputs 35 percent of the world's coal, but accounts for four out of five mine deaths.

The move comes less than a week after a gas explosion in a mine in Shaanxi province killed 166 miners in the country's worst mining disaster in recent history.

Small coal mines have also been accused of wasting resources, with resource recycling at 10 to 15 percent, while at some large state-owned mines the figure was about 60 percent.