Sexual views polled among Chinese women
(Beijing Weekend)
Updated: 2004-12-04 22:40
A young Chinese couple have been married for eight years. To outsiders, they are a perfect couple, a 'model family' in their community. In all this time, however, she has never experienced the euphoria of orgasm.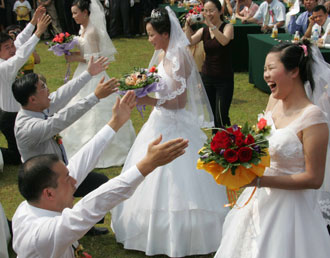 A mass wedding ceremony is held in Xiamen November 4, 2004. [newsphoto]

To maintain their marriage, she has never told this to her husband. But now the pain is too much to endure. She has told her husband he could find a mistress; her husband begs doctors to find a solution for his wife to recover her sexual desire.

Until that time, his wife had never sought any medical help, or even communicated to her husband about the problem.

In a recent on-line survey about Chinese women's sexual situation, only 7 per cent expressed they will seek help from doctors if they have problem with sex. An amazing 37 per cent chose not to seek any help at all, with the remainder seeking help from the Internet or by reading relevant books.

The survey, held by the China Sexology Association and Sina.com, was conducted between August 22 and September 31, and was completed by more than 32,000 people. Although thorough analysis is still continuing, some preliminary results have been released.

Being an on-line survey, the domicile group who participated in the survey is assumed to be highly educated females living in large- or medium-sized Chinese cities, aged between 21 and 49 years old. As they are also Chinese Internet surfers, it is believed that they also have a knowledge about sex.

As high as 87 per cent of the women believe they have pleasure having sex, while only 6 per cent of the surveyed say they never reached orgasm. Thirty-three per cent say they will tell their partners if they want sex, and 53 per cent say they will give their partners a hint about their objective.

If they don't want to make love, but their partner request it, half say they will choose to comply, while the other half will tactfully refuse or communicate well with their partners.

"The findings reveal that, generally speaking, the group of women surveyed are confident and independent. They know how to express their feelings for sexual activity, care for themselves and know that communicating is important."

This result, however, contrasts some major aspects of another survey conducted by Pan Suiming, a scholar at Renmin University of China, in 1999-2000.

According to Pan's survey, only 6.8 per cent of Chinese women have experience of masturbation; nearly 80 per cent of Chinese women did not know exactly what orgasm is; as many as 62.8 per cent of women did not even know the location of clitoris.

"These results are hardly convincing from our clinical experience," observed Ma Xiaonian, director commissioner of the Professional Committee of China Sexology Association.

His association's findings on the Internet show that more than 60 per cent of women admit that they masturbated, 37 per cent admit they often have orgasm, and only 6 per cent say that they never had an orgasm. Eighteen per cent are "very satisfied" with their sex life, and 49 per cent are "relatively satisfied."

"These results are much closer to international statistics," observed Ma.

Besides not seeing doctors for their sexual problems, 75 per cent of women reported they experienced insufficient lubrication of the vagina, a big minus in the quality of sex life.

And although 55 per cent of the surveyed say they often change positions, the use of products to assist in sexual intercourse is very low. In America, 67 per cent of partners use lubricant, while 81 per cent of the Chinese say they never use such utilities.




| | |
| --- | --- |
| | |
| Miss World pageant to return to Sanya in 2005 | |

| | |
| --- | --- |
| | |
| From 'Hero' to zero in Zhang Yimou's films | |

| | |
| --- | --- |
| | |
| Golden Horse Award | |
Today's Top News
Top Life News

Key economic policies mapped out for 2005




Hu shares views with Chirac over phone




SARS vaccine found safe in test




Probe into coal mine blast begins in earnest




Weekend attacks kill at least 70 in Iraq




25 dead, 19 missing at Guizhou landslides