Car bomb in Baghdad kills seven
(Agencies)
Updated: 2004-12-04 21:19
In the second major assault on Baghdad's police force in two days, two car bombs exploded next to an Iraqi police station just outside Baghdad's Green Zone on Saturday, killing seven people and wounding 59, mostly police. Insurgents killed 16 officers in an attack the day before.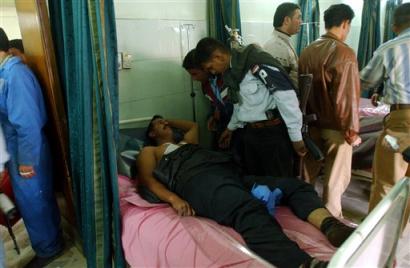 Iraqi policemen check on their wounded colleague in Baghdad's Yarmouk hospital Saturday Dec. 4, 2004. A car bomb attack next to an Iraqi police station just outside Baghdad's Green Zone on Saturday killed six Iraqi policemen and wounded 10, officials said. [AP]

The U.S. military said two car bombs exploded at about 9:30 a.m. near a checkpoint leading to the heavily fortified area, which houses the offices of Iraq's interim government and several foreign missions, including the U.S. Embassy. Only one blast was heard at the time, suggesting the bombs may have been timed to detonate simultaneously.

Bursts of automatic fire followed the thunderous detonation, which shook windows several hundred yards away in buildings on the opposite side of the Tigris River from where the attack occurred.

Health officials said the bodies of seven people killed by the blast and 59 wounded were brought to two Baghdad hospitals. Officials said most of the victims were police officers, but the identities of all the dead were not yet known.

The interim government's security forces are regular targets for insurgents, who have been ramping up attacks ahead of scheduled Jan. 30 elections. Hundreds of police officers and members of the Iraqi National Guard have been killed in strikes by insurgents, who regard the police as collaborators with foreign occupiers.

The latest attacks, however, were particularly audacious and sent a clear message that the insurgents can strike wherever they choose. Friday's attack came on the airport road, which, while extremely dangerous, is frequently patrolled by U.S. troops. And the police station hit Saturday was just yards from the seat of American and Iraqi power in the country.

North of Baghdad, a U.S. soldier was killed and another wounded when a roadside bomb detonated, destroying the truck they were traveling in, U.S. military spokesman Master Sgt. Robert Powell said.

The attack happened near Ghalabiyah, 6 miles west of Baqouba, a hotbed of the insurgency.

The killing raised the number of U.S. military members to have died since the beginning of the war in March 2003 to at least 1,266, according to an Associated Press count.

Police in the northern city of Samarra also came under attack Saturday. Mortars were fired at a station after midnight, wounding two officers. Gunmen injured two policemen in another attack at about 10 a.m., according to police Maj. Sadoon Ahmed Matroud.

New details emerged about heavy fighting in the last day in Mosul, the northern Iraqi city that has seen a surge in violence recently, including several attacks in which insurgents captured and looted several police stations.

The latest clashes were widely reported Friday, but details had been sketchy. On Saturday, the U.S. military said in a statement that the fighting began when insurgents attacked four police stations but were repelled.

The statement said about 70 insurgents also tried to ambush a U.S. patrol with roadside bombs, rocket-propelled grenades and small-arms fire. After regrouping, U.S. and Iraqi forces launched an assault on "pockets of resistance" in Mosul, killing more than two dozen insurgents.

On Friday, 11 carloads of gunmen drove up to the police station in Baghdad's western Amil district and attacked it with rocket-propelled grenades and small-arms fire, killing 16 officers. Jordanian terrorist Abu Musab al-Zarqawi's militant group claimed responsibility for that attack.

Another car bomb attack Friday at a Shiite mosque in the Sunni stronghold of Azamiyah killed 14 people and wounded 19 gathering for a Friday prayer service. That attack was followed by insurgents and Iraqi government forces fighting for about two hours around a nearby police station.

U.S. Embassy spokesman Bob Callahan said Saturday's car bombing in Baghdad caused no U.S.-led coalition casualties. The blast occurred near "Checkpoint 3," close to the Convention Center ¡ª a building next to the Green Zone where the American military and embassy regularly stage meetings ¡ª and the nearby al-Rashid Hotel, which houses diplomats and foreign contractors.

U.S. commanders and Iraq's interim authorities hope to boost security in Iraq ¡ª mainly in Sunni Muslim areas of central and northern Iraq ¡ª before the Jan. 30 elections. Sunni politicians have urged the postponement of balloting because of recent violence.

The visiting NATO commander expressed surprise Friday that Iraq's insurgency had proven so resilient by comparison with Afghanistan, where he said security has improved significantly.

"At the beginning I would have projected the opposite, with Iraq coming along faster," said U.S. Gen. James Jones, the supreme allied commander in Europe.

In Kirkuk, U.S. soldiers killed an Iraqi driver who didn't slow down at a checkpoint set up following a rocket propelled grenade attack on a liquor store, Iraqi police and the U.S. military said Saturday.

An investigation has been launched into the killing, which involved soldiers from the 1st Infantry Division's 1st Battalion, 22nd Infantry Regiment.

Elsewhere, Japan's top defense official, Yoshinori Ono, traveled to Iraq to visit Japanese troops on a humanitarian mission.

Tokyo must soon decide whether to extend its military dispatch to Iraq, but it is widely expected to approve an extension beyond a Dec. 14 deadline for the 550 Japanese troops based in the southern Iraqi city of Samawah.

The non-combat mission, launched early this year, is Japan's first military deployment to a combat zone since World War II ended.




Today's Top News
Top World News

Chinese bodyguards face legal quagmire




US: China abides by currency law




China to bail out 2 more state banks




EU urged to lift arms sales ban at early date




Economy expected to grow stably in 2005




Special envoy visits US; One China reiterated