Rescue resume at China landslide, 23 dead
(Agencies)
Updated: 2004-12-04 15:19
Recovery operations at a landslide in southwest China which left at least 23 dead and scores missing have resumed as nearby coal mines were shut for investigations into their possible role in the disaster.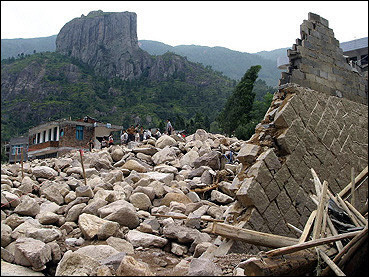 The scene of a landslide in Yueqing in August 2004. A landslide struck struck in Zuojiaying village, about 200 kilometers (124 miles) west of the provincial capital Guiyang city killing at least 23 people. [AFP]

Officials have ruled out finding any of the buried victims alive after a huge mass of earth crashed down on a village in Guizhou province in the early hours of Friday.

"Rescue operations resumed this morning," said Guo Yan, head of the civil affairs bureau of Nayong county.

"We can only search during the daylight hours because at night it is too difficult to monitor if another landslide could occur."

The disaster, the latest to hit a country reeling from a series of recent mining accidents, struck at 3:00 am Friday in Zuojiaying village, about 200 kilometers (124 miles) west of the provincial capital Guiyang city.

Guo said the county toll was 23 dead, 21 missing and 13 injured, but the official Xinhua news agency earlier placed the number of dead at 16 with 49 missing.

"There's no hope that any of the victims buried will be found alive," Guo said.

Families of victims were grieving their losses Saturday, but emotions in the mountain village were stabilizing, he said.

"Some people have lost their entire families and others have lost several family members, so the sense of grief is deep," he said.

The huge mass of earth that crashed down on the houses was 500 meters (1,650 feet) long, 200 meters wide and three meters high, he said.

Large excavating machines and more than 1,000 rescuers were trying to dig through the mud, according to Xinhua.

Guo also said that it was still uncertain whether digging at some 20 mines in the village contributed to the cause of the accident, but all local mines had been shut down pending further investigations.

"Initial investigations have revealed that the landslide was largely a naturally caused geological disaster," Guo said.

"But we have issued orders stopping work at all the local coal mines and we are waiting for experts from the central government to come to certify the cause of the disaster.

"Only at that time will it be decided if the coal mines can resume work."

The landslide is the latest in a series of deadly accidents to hit China in the past six weeks. All have been linked to poor safety in China's mining industry, considered the most dangerous in the world.

A total of 314 miners were killed in two major gas explosions in the period, including 166 last Sunday in Shaanxi province.

Safety and lives are being sacrificed to meet high demand for coal to fuel China's economic boom, critics say, while mine shutdowns after such disasters only exacerbate shortages and force mines elsewhere to increase capacity at the expense of safety standards.

"It's like a chain reaction," Huang Teng, an analyst for the Beijing Changmao Consultant Co, told Saturday's China Business Weekly.

"Stopping production (after mining accidents) cuts down the coal supply in the market and eventually stimulates others to produce more to cash in on the strong demand."




Today's Top News
Top China News

Chinese bodyguards face legal quagmire




EU urged to lift arms sales ban at early date




China to bail out 2 more state banks




Landslide kills 16, traps 49 villagers




Economy expected to grow stably in 2005




Juneng calcium tablets not unsafe: Officials