Bush appealing to Congress on 9/11 bill
(Agencies)
Updated: 2004-12-04 11:00
President Bush will make a final appeal to Congress to find a way to pass legislation before the end of the year that would make the Sept. 11 commission's terror-fighting recommendations law, White House officials said Friday.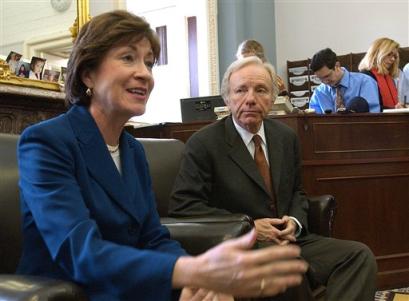 Sen. Susan Collins, R-Maine, chairman of the Senate Governmental Affairs Committee, and the committee's ranking Democratic member, Sen. Joseph Lieberman, D-Conn., discuss pending intelligence reform legislation during a news conference on Capitol Hill Thursday, Dec. 2, 2004. Both senators said they expect Congress to approve a compromise bill next week. [AP]

Bush plans to send a letter to congressional leaders outlining his wishes on stalled legislation to create a national intelligence director position to coordinate the nation's spy agencies and enact other anti-terror measures. The House and Senate return next week and will take a last stab at getting a solution.

Congressional aides said the White House has told them the letter would not be available on Friday.

House Speaker Dennis Hastert, R-Ill., refused to bring a House-Senate compromise up for a vote two weeks ago after two House chairmen, GOP Reps. Duncan Hunter and James Sensenbrenner, opposed the solution.

Hunter, a Californian who heads the Armed Services Committee, said the intelligence realignment could interfere with the military's chain of command. Judiciary Chairman Sensenbrenner, of Wisconsin, said the bill also should deal with illegal immigration.

Rep. John Doolittle, R-Calif., secretary of the House Republican conference, said Friday he doesn't expect a vote on the bill unless Hunter is satisfied.

"Frankly the members of our Republican conference have tremendous confidence in the integrity and the knowledge and the dedication of Duncan Hunter to the armed forces, and if he is uncomfortable enough with that bill to the point of opposing it, they're going to follow his lead," Doolittle said.

Bush's letter will "talk a little bit more about some of those remaining issues that are being discussed as we move forward. And I think the president will continue to talk about the importance of getting this done now," White House spokesman Scott McClellan said Friday.

"Congress has made a lot of progress, and now is the time to get this legislation passed. I think he will talk about the importance of preserving the chain of command in department and agencies."

Bush telephoned Hastert and Senate Majority Leader Bill Frist, R-Tenn., on Thursday and told them he wants an intelligence bill completed.

At the White House on Friday, Bush told House and Senate members that "he's working on it as hard as he can," said Sen. Mike Enzi, R-Wyo. "We've talked to other people who are working on it, progress is being made, and we hope that it can be finished up (next) week."

Senate negotiators said Thursday they expect Bush to endorse the compromise and pressure Hastert to bring it to a vote, despite Hunter and Sensenbrenner's opposition.

The president's task may have been made easier Thursday when the nation's top military officer said lawmakers had dealt adequately with a provision in the bill that he had objected to publicly.

Gen. Richard Myers, chairman of the Joint Chiefs of Staff, said his one objection to the compromise bill was resolved. He asked last month that the bill keep money for combat support agencies flowing through the Pentagon instead of going through the proposed national intelligence director.

"The issue that I specifically addressed in a letter to Chairman Hunter has been accommodated, I'm told, in the bill," Myers said. He still refused to endorse the compromise.




Today's Top News
Top World News

EU urged to lift arms sales ban at early date




China to bail out 2 more state banks




Landslide kills 16, traps 49 villagers




Economy expected to grow stably in 2005




Juneng calcium tablets not unsafe: Officials




12 criminals in Xi'an lottery fraud sentenced