Police raid Michael Jackson's Neverland ranch
(Agencies)
Updated: 2004-12-04 09:40
Police armed with a search warrant raided Michael Jackson's Neverland Valley Ranch on Friday, looking for evidence in the child molestation case against him, a Santa Barbara County Sheriff's spokesman said.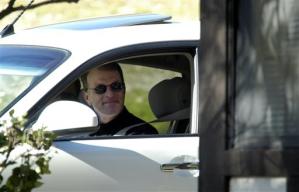 Santa Barbara County Senior Deputy District Attorney Gordon Auchincloss pauses at the security building at Michael Jackson's Neverland Ranch in Los Olivos, Calif., Friday, Dec. 3, 2004 during the execution of a search warrant Friday morning. [AP]
Investigators served the search warrant on Neverland at about 9 a.m. local time (noon EST) "as part of an ongoing criminal investigation," Sheriff's spokesman Sgt. Chris Pappas said in a statement. He did not elaborate.
A spokeswoman for Santa Barbara County District Attorney Tom Sneddon said only that the raid was "authorized by the court." Jackson is scheduled to stand trial in January on charges that he molested a young boy at Neverland and conspired to cover up his misdeeds.
The 46-year-old pop star's lead attorney, Thomas Mesereau, and a spokeswoman declined to comment when reached by Reuters. Both are covered by a strict "gag" order imposed by the judge in the sensational case.
It was not immediately clear whether the police raid would delay Jackson's trial, which is scheduled to begin on Jan. 31. Defense lawyers have said that they may need more time to prepare, in part because prosecutors have continued to investigate the entertainer.
In November 2003, more than 60 sheriff's deputies raided Neverland, Jackson's estate in the foothills above Santa Barbara, hunting for evidence that he had molested a young boy and plied him with alcohol.
The evidence taken in that search has largely been kept under wraps by Superior Court Judge Rodney Melville, who has imposed nearly unprecedented secrecy in the case. Defense attorneys sought to suppress much of the evidence, claiming during a pretrial hearing that authorities had exceeded the authority of the search warrant.
The self-proclaimed "King of Pop" has pleaded innocent to a 10-count Santa Barbara County grand jury indictment handed down in April and has vowed to prove himself innocent in court.
In the mid-1990s, Jackson, whose "Thriller" is one of the best selling pop albums of all time, reached an out-of court settlement with a boy who accused him of sexual abuse. No criminal charges were brought in that case.
| | |
| --- | --- |
| | |
| Miss World pageant to return to Sanya in 2005 | |

| | |
| --- | --- |
| | |
| From 'Hero' to zero in Zhang Yimou's films | |

| | |
| --- | --- |
| | |
| Kidman lands in 'Guinness Book of Records' | |
Today's Top News
Top Life News

EU urged to lift arms sales ban at early date




China to bail out 2 more state banks




Landslide kills 16, traps 49 villagers




Economy expected to grow stably in 2005




Juneng calcium tablets not unsafe: Officials




12 criminals in Xi'an lottery fraud sentenced