Juneng calcium tablets not unsafe: Officials
By Wang Ying (China Daily)
Updated: 2004-12-04 00:10
The Ministry of Health announced on Friday that the hydrogen peroxide remnant found in Juneng calcium health care tablets is within safety limits.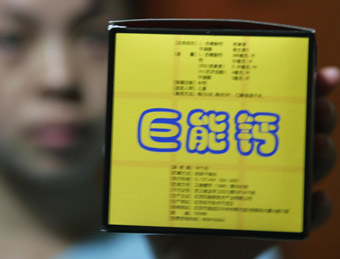 The hydrogen peroxide remnant found in Juneng calcium health care tablets is within safety limits, said health authorities Friday. [newsphoto/file]

Juneng calcium health products caused a nationwide stir last month after media allegations that some of the products contain hydrogen peroxide, a potentially harmful chemical remnant that may cause cancer.

Henan Commercial News first reported that the calcium tablets contain large amounts of hydrogen peroxide remnant.

After careful investigation, the Ministry of Health found that the quantity of hydrogen peroxide in the Juneng calcium products is within the dosage recommended by the producer.

"The ministry began to investigate the calcium products from Beijing Juneng New Technology Co immediately after learning of the case," the website said.

Juneng said the reports may be part of a plot to taint the company's reputation.

The ministry asked the Tianjin Health Bureau and Beijing Drug Administration to check the Juneng calcium products.

"Experts also said that there is still not enough proof that hydrogen peroxide can cause cancer," the website said.

"The investigation found that the Juneng Co has no illegal practices in producing the calcium products," the article said.

The Henan newspaper said it received tips from readers in mid October and bought seven bottles of different types of calcium health care products made by the company to undergo testing at the Agricultural Products Quality Supervision Centre under the Ministry of Agriculture.

Reports from the centre show four types of the calcium products contained hydrogen peroxide remnant.

The State food additive standards strictly confine the application of hydrogen peroxide to food and prohibit any remnant in food products.

State food additive standards generally stipulate that hydrogen peroxide can only be used in the disinfection of raw milk and dry soybean curd products.

The Juneng Co made public a letter to consumers late last month saying that it feels "regret" over the "Juneng calcium crisis" but is "confident" about its products.

However, Juneng calcium health care products have been removed from the nation's major drug stores including Golden Elephant and Tongrentang.

Staff from the Golden Elephant Pharmacy in Madian area of downtown Beijing said they have took Juneng calcium products off shelf about two weeks ago.

Sales of Juneng calcium products have fallen substantially since mid-November and many products have been returned, the staff said on Friday.

The Juneng calcium products were approved by the Food Hygiene Evaluation Commission under the Ministry of Health in 1996.