Chinese bodyguards face legal quagmire
By Raymond Zhou (China Daily)
Updated: 2004-12-04 00:25
On the morning of January 22, 2003, Li Haicang had guests streaming into and out of his Shanxi office. The last one, Feng Yingliang, using a sawn-off rifle, put a bullet into Li's body.
Without taking another step, Feng shot himself a moment later.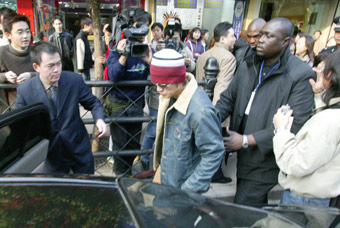 Under heavy protection of his bodyguards, Taiwanese pop singer Jay Chou (center) leaves a promotional event in Nanjing, capital of East China's Jiangsu Province, on November 21, 2003. With the emerging group of ultra-rich and prominent entertainers, there has been a growing demand for private bodyguards, who, however, offer their service in a grey area of the law. [newsphoto]

Li was the chairman of the Haixin Steel Group and 27th on the 2002 Forbes list of China's richest people.

Some 20 days later, on February 12, multimillionaire Zhou Zubao, from the wealthy enclave of Wenzhou in Zhejiang Province, was stabbed 14 times by five men outside his own home.

These are just two incidents that attest to a trend of occupational hazards for China's ultra-rich: assassination and, to a lesser degree, kidnapping.

They are also a reminder that precautionary measures may be necessary, if not mandatory, for this emerging class of millionaires and billionaires. Bodyguards seem to be the first option.

If Li and Zhou had had personal bodyguards with them when they were attacked, things might have turned out differently.

In fact Zhou Zubao was often surrounded by a coterie of bodyguards when he worked in Beijing, where he managed the biggest fur marketplace in north China.

He was usually accompanied by some of them with him on his trips home, but this time he went down south to attend his son's wedding and decided, on the spur of the moment, to leave them behind. Suffice to say, it was a fatal decision.

Over the past year, one of the biggest news stories in this area was one that claimed Guangzhou has an industry that employs no fewer than 5,000 personal bodyguards.

The figure is hard to verify, but people do not seem to be surprised by the figure since the southern city is one of the wealthiest places on the mainland, with "bosses" marching across luxury hotel lobbies and fancy restaurants in every gleaming tower.

Reports say employers of bodyguards are "successful people" like senior executives of foreign or private businesses, as well as entrepreneurs and prominent entertainers.

"The emergence of private bodyguards is a definite phenomenon when social development reaches a certain point," said a Professor Gu, at Nanjing University.

"This profession is being whipped into shape by the wealthy classes."

So, who are the nemeses of China's rich?

Empirical data point to those in the same line of business: competitors whose market is encroached upon, suppliers whose payments have been deferred or deprived, and labourers who resort to violent means to recoup promised salaries.

Then there are those who are jealous of, or simply hate, the rich for their lavish lifestyles.

Not every employer hires bodyguards for safety reasons.

Who needs bodyguards?

Some want to show off their wealth or impress their business partners or suppliers by buffing up an entourage. Still others tend to get into brawls at public hangouts and do not hesitate to use bodyguards as offensive tools.

One Guangzhou-based bodyguard said: "A law-abiding businessman does not need a bodyguard, only those in smuggling, gambling and scams need special protection."

Who knows whether this is a point of view or the facts.

A lack of legal clarity surrounding bodyguards means their work is often described as "chauffeur" or "secretary". Their multi-functions are also reflected in the job description: Some need to act as shields in drinking binges, while others need to run errands for the employer's entire family.

One bodyguard training programme places the emphasis on fitness and physical exercise.

"Successful people are usually under a lot of stress and need a break physically," said the programme director. "Bodyguards, with their background, should double as good coaches in fitness training."

Most of China's private bodyguards are retired soldiers from elite training units similar to the US Navy Seals.

"They must have flawless qualifications. All must have at least one bronze medal from the military career. Men must be 1.78 metres or taller, and women above 1.66, aged between 23 and 28. Be experienced drivers. No conspicuous facial features." Cui Fengxian, owner and manager of the Beijing-based Special Security Consulting Firm, set up earlier this year, described his ideal candidates.

Cui divided his 140 employees into three categories. The highest grade should understand a foreign language and be able to participate in scheduling and planning.

Other professions that supply able-bodied protectors are sports academies, whose graduates have excelled in some style of fighting such as karate, taekwondo or martial arts.

One position providing private security represents a big step up the ladder of employment and offers some potential, say many in the business.

Some of them were once "regular" security guards, watching over office towers and residential compounds, often for less than 1,000 yuan (US$121) a month.

Private bodyguards earns several times that, usually in the 5,000-10,000-yuan (US$604-1,208) range.

The Beijing firm that offers female guards claims to offer annual salaries as high as 300,000-500,000 yuan (US$36,275-60,459).

Once a client is accustomed to the service of a certain guard, he or she may change the guard's status from contractor to regular employee.

A job with challenges

Xia, a 36-year-old who started with 3,000 yuan (US$363) a month, said he was happy to have a steady job as a bodyguard for a hotel owner because he did not have any "tangible skills" when he left the military service.

His employer, the "big boss", even funded a small shop run by his wife, which seemed to be a good way to keep a trusted guard.

Actually, many of bodyguards quit the job that requires them to be on call 24/7 when they get married and would prefer a normal family life.

The most important thing is considered to be loyalty, which takes time and mutual understanding to build. More than a few stories recount tales of kidnapping and even killings of employers by their trusted bodyguards.

There are advantages in working so closely to one's boss -- association can be a good thing for the bodyguard, as Xia, who is professionally not at liberty to converse with this own boss, would testify.

He claims that even so, he has managed to build up a social network simply by working for him.

Sometimes loyalty can even get guards into trouble.

Guangzhou guard Zheng recounts an incident when, in protecting his boss who was attacked in a restaurant, was arrested and questioned for hours.

Both Zheng and Xia agree the employer's personality usually makes some difference. It is very difficult to stay within the law when practising this kind of work, Xheng and Xia said. Hesitation can lead to trouble for your boss -- following instructions to the letter can lead to a long jail term.

Xia has a personal policy of "tolerating misdemeanour but no criminal offence". "I would punch a guy as a warning, but not beat him too hard," he said.

"Of course I would not kill someone or burn down someone's house on my boss's orders. The money is not worth half of my life," said Zheng. "But if I figure the consequences win't be too grave, I'll do what the boss orders. "

Legal quagmire

There are no laws yet in China governing private bodyguards. Lawyers suggest that what is not specifically forbidden by law should be legal.

Officials contacted by our reporters, however, claim that no firm can legally be registered as a private bodyguard service. In Guangzhou, one firm that opened in May and hired 80 guards was shut down in September by the public security bureau.

He Jiahong, professor of law at China Renmin University, contends that private bodyguards can fill the void left open by the inadequacy of the police force and meet the needs of security management in society.

His colleague Zhang Shuguang said that under current law, a private bodyguard does not have any special privileges. He or she has the same rights and responsibilities as a normal citizen, which means they are not entitled to bear arms.

But it is an open secret that many guards do carry weapons -- in violation of the law.

We should face the fact that private bodyguards exist and they fill a social need, maintains Li Defeng, a deputy to the Guangdong Provincial People's Congress, legislature of the province.

He suggests that the government move the profession out of the shadows and into the light.

There should be a set of specific regulations controlling the profession and anyone doing the job should pass a standard test and carry a special work permit, Li argues.

Zheng looks forward to the day when both he and his boss know exactly what the law allows or forbids a guard to do.

"Most of us will obey the law without too much pressure," he says. "But before that happens, the words of the boss are basically the law."




Today's Top News
Top China News

Chinese bodyguards face legal quagmire




EU urged to lift arms sales ban at early date




China to bail out 2 more state banks




Landslide kills 16, traps 49 villagers




Economy expected to grow stably in 2005




Juneng calcium tablets not unsafe: Officials