The Xi'an sports lottery case, which drew great public attention since March, came to an end with 12 suspects pronounced guilty at the first instance by the Xi'an Intermediate People's Court on Friday.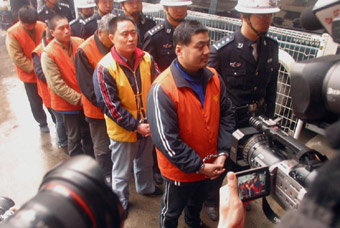 Yang Yongming (first front), a private businessman and masterminder of the Xi'an lottery scandal, is taken with five partners Friday into the city's intermediate court before receiving swindling, bribery and theft sentences in Northwest China's Shaanxi Province. [newsphoto]


Six are former officials at local sports lottery administrative centres, while the others were a private business man and his five partners.

Jia Anqing, 58, former director of the Shaanxi Provincial Sports Lottery Administrative Centre, was sentenced to 13 years' in prison for bribery and abuse of official power, and his 130,000 yuan (US$15,663) was confiscated, the court announced.

The court considered said that Jia had exploited his office to help others and had accepted bribes. He gave Yang Yongming abandoned lottery prizes that should have been placed in a public welfare fund, and caused great economic losses to the State.

And Jia infringed on State regulations and rules in contracts with Yang for selling lottery tickets, entrusting Yang as a lottery sales manager. That allowed Yang to control prizes during lottery sales, the court said.

"It not only provided a chance for Yang to cheat during lottery sales, but also caused abominable social influences and severely harmed public trust in the government," the court said.

Together with Jia, another five former Shaanxi and Xi'an sports lottery officials were sentenced for bribery and malfeasance charges. Their sentences ranged from eleven years to six months in jail, with illicit money they had pocketed confiscated.

And Yang Yongming, a 32-year-old private businessman who was a contractor with the Shaanxi Provincial Sports Lottery Administration Centre selling tickets was given 19 years with 100,000 yuan (US$12,048) confiscated. He was convicted of fraud and bribery, according to the court.

Yang gave more than 420,000 yuan (US$50,602) to local lottery officials to seek the illegitimate benefits, the court said.

Five Yang employees were also sentence to fixed-terms in prison and had fraudulently obtained money confiscated.

Yang started selling sports lottery tickets in Shaanxi from 2000 and he cheated continually to make profits from lottery sales.

Yang's cheating was exposed by accident in March 2004, local police said.

During lottery sales from March 20 to March 25 in downtown Xi'an, Yang had a plan to cheat on the four top prizes, each with a BMW325i car and 120,000 yuan (US$14,460) to be given away.

By making marks on the envelopes which contained the number for the top prizes, Yang Yongming arranged for Sun Chenggui to dispense the prizes. Yang also employed another four people to falsely claim the top prizes, according to local police.

The scam was exposed when a local farmer, Liu Liang, was mistakenly given an envelope containing a top prize by Yang Yongming.

When Liu claimed to prize, Yang said the ticket Liu picked up was forged and Liu persisted that it was real, and their on-going quarrel drew national media attention.

Police soon intervened in the case and five people, including Yang Yongming, soon were suspected of cheating and were arrested on June 2.

The police investigation also indicated that Yang and his employees had cheated in lotteries in Yan'an and Yulin, two cities in northern Shaanxi, in January and February. They employed five local people to falsely claim nine Chery cars.