Rebels storm police stations in Baghdad
(Agencies)
Updated: 2004-12-03 16:13
Armed rebels stormed a police station near the airport road in western Baghdad early Friday, killing six police officers, officials said.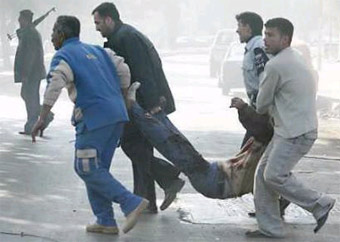 Iraqis remove a badly wounded civilian from the scene of a mortar attack in central Baghdad, December 2, 2004. A mortar landed in the parking lot of Abu Nawas theatre, wounding at least two people and setting a number of vehicles on fire, Iraqi police on the scene said. [Reuters]


In a separate attack, rebels clashed with police at a station in the capital's northern Adamiyah district, an officer said on condition of anonymity. There was no information on casualties, he said.

Thick black smoke rose from the burning vehicles after the attack in the western Amil district. Government forces sealed off the area.

Police Cap. Mohammed al-Jumeili said the insurgents began the attack by shelling the station with mortars, and then about 15 of them stormed its main courtyard and clashed with police inside. Six police officers were killed and several were wounded, he said.

Detainees being held at the station were also hurt, al-Jumeili said. There was no word on the insurgents' casualties.

Another officer at the scene told reporters that the rebels had looted weapons from the station.

The highway leading to Baghdad International Airport on the capital's western outskirts is considered one of the most dangerous stretches of road in Iraq. Rebels have repeatedly targeted U.S. troops and Iraqi government forces on the busy thoroughfare.




Today's Top News
Top World News

China's mining sector sounds the alarm




11 people jailed for lottery fraud




Official: Airbus deal not linked to arms ban




Modified rice at least a year away




Putin strongly opposes new Ukraine runoff




65 people missing in Guizhou landslide