China's mining sector sounds the alarm
By Xing Zhigang (China Daily)
Updated: 2004-12-03 15:51
An explosion at Chenjiashan Coal Mine in the northwestern province of Shaanxi on November 28 and a gas explosion in a Guizhou mine in Southwest China on December 1 once again added to China's dismal safety record in the mining industry.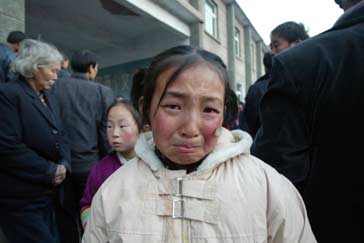 A girl could not hold back her tears as she stands outside the tunnel entrance at Chenjiashan Coal Mine in Tongchuan of Shaanxi Province. Altogether 166 miners died in the recent accident. [newsphoto/file]
The death toll in Sunday's gas blast has reached 166, making it the worst since a September 2000 explosion at Muchonggou Coal Mine in Guizhou Province claimed 162 lives.
China's coal mines have been haunted by death. On October 20 a deadly gas blast in Daping of central Henan Province killed 148.
In the first nine months of this year, 4,153 coal miners were killed in fires, explosions, floods or other disasters, statistics from the State Administration of Work Safety show.
The administration said China reported 80 per cent of the world's total coal mining-related deaths, although it produced only 35 per cent of the world's coal.
In fact, the staggering number of coal mining accidents and deaths represent only part of the serious work safety problems in the world's most populous nation.
China has seen an annual average of about 1 million industrial accidents since 2001, according to the State Administration of Work Safety, with nearly 140,000 deaths each year.
Economic losses incurred in the accidents are estimated to top US$180 billion annually, according to Luo Yun, a researcher at the Chinese University of Geology.
The professor, director of the university's Work Safety Research Centre, long warned against a sharp rise in workplace accidents amid China's fast economic growth.
"That's because the contradiction between China's booming economy and its weak production safety foundation is going to the extreme," he said.
His judgment is based on solid numbers. Over the past decade, the number of workplace deaths has been on the rise.
In 2003, China recorded a total of 136,340 deaths in industrial accidents, almost double the figure of 79,422 in 1991.
In response to the growing number of workplace accidents, Zhao Tiechui, deputy director of the State Administration of Work Safety offered his explanation earlier this year.
He said industrial development experience in developed countries has showed that a country usually suffers a higher incidence of accidents when its per capita gross domestic product (GDP) rises from US$1,000 to US$3,000.
"China is now entering that phase," Zhao told a news conference on February 24.
China's per capita GDP reached US$1,090 last year, exceeding for the first time a per capita GDP of US$1,000, the so-called "economic growth threshold."
Work safety experts, however, have suspicions about the official explanation.
Youzhi Wei, chief adviser to the Australia-based CSIRO Exploration & Mining, said the number of industrial accidents is not directly related to the economic development phase.
"The most critical thing concerning work safety is whether you have an advanced concept (of safety) and how you pay attention to work safety," Wei was quoted as saying by the China Youth Daily.
Citing some world-known mining companies as an example, he said all of the firms keep good work safety records although they usually operate in developing and even in some of the most underdeveloped countries.
What is to blame?
Media commentator Li Wangang said the industrial development history of Western countries should not be used to justify China's high frequency of workplace accidents at present.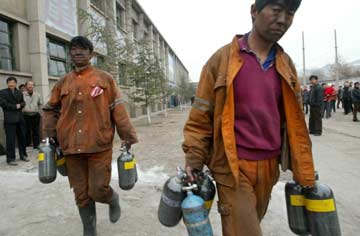 Rescue workers carry bottles of oxygen at Chenjiashan Coal Mine. The rescue work started immediately after the gas blast. [newsphoto]
"As a developing country, China should have learned lessons from developed nations and thus does not need to relive their painful experiences," he said.
"Moreover, China should try hard to break away from the so-called development rule through its technological and managerial advantages."
Luo went further to stress that in theory all workplace accidents are technical risks and can be prevented through adequate precautionary measures.
Safety measures mainly include increasing investment in infrastructure construction, strengthening safety training and improving management and supervision of work safety.
But unfortunately, there has been rampant negligence of work safety around the country, says Zhang Baoming, former director of the State Administration of Work Safety.
He said almost all industrial accidents in China were caused by human errors, except a few that resulted from natural factors.
Zhang points to widespread practices of being preoccupied with economic growth while disregarding the life and health of labourers, the government's lax supervision on safety as well as poor enforcement of related laws and regulations.
"If unchecked, the upward spiral in workplace accidents will not only cause great damage to our society but also pose a grave test to social justice and government credibility," says Zhang, now a member of the National Committee of the Chinese People's Political Consultative Conference.
The recent series of accidents have drawn particular attention as market demand for coal continues to soar in China.
As the Chinese economy grows at full steam, there has been a dire need for coal, which supplies two-thirds of the country's total energy and generates 80 per cent of its electricity.
Work safety experts say increased production has forced coal mines to their maximum capacity, triggering more potential risks.
"Quite a large number of enterprises have distorted the relationship between work safety and economic gains," says a recent Xinhua commentary.
"They have been bent on pursuing short-term profits regardless of work safety management."
The practice is especially severe in private firms or small and medium- size enterprises, where around 60 per cent of China's workplace accidents occur.
Such firms have been accused of being more concerned about cutting costs and increasing profits, sometimes at the cost of workers' health and safety.
Statistics from the State Administration of Work Safety show about 600,000 miners to date are suffering from pneumoconiosis, a disease of the lungs caused by long-continued inhalation of dust.
And the figure increases by 70,000 sufferers each year.
A November 20 accident in Shahe of North China's Hebei Province served as a typical case of how private mine owners disregard the safety of their workers.
A fire raged through five local iron mines killing 65 miners.
A Xinhua report said owners of the private iron mines had been lavish on building some miniature temples around iron sites to pay respects to the God of Wealth but spent little on safety facilities.
Survivors of the accidents told Xinhua the mine owners never organized safety training among new workers as required by work safety laws.
As a result, most miners knew nothing about escape and self-rescue methods, allowing their lives to depend on merely a safety helmet, the Xinhua report said.
Much-flawed supervision system
In some accidents, private firm owners even collaborated with local officials to cover up the death toll and injuries in order to prevent their mines from being shut down.
On June 3, a gas blast at the Hongda Colliery of Handan County in Hebei Province killed 14 miners and injured another 23.
The coal mine owner first told investigators only one person had died. The actual number of deaths was not revealed until police stepped in.
The country has launched a nationwide campaign to eliminate unlicensed and unsafe mines in the poorly regulated industry since May 2002, shutting down thousands of mines.
But despite repeated crackdowns on small and privately owned coal mines for poor safety standards, many continue to operate under the protection of local officials.
What's worse, even large State-owned coal mines have been widely engaging in unsafe operation partly due to the government's loose supervision.
"Work safety administrations have been concentrating on dealing with post-accident matters but have done little to help enterprises improve their safety measures in the first place," says media commentator Mao Xiaogang.
Government data shows at least 4 billion yuan (US$483 million) is needed to improve ventilation in the country's 30,000-odd coal mines alone.
An embarrassing fact in the Chenjiashan coal mine accident was that the blast occurred two days after the Shaanxi provincial government ordered tougher mine inspections and closure of any mines with insufficient or substandard ventilation.
The provincial government has ordered all mines in Shaanxi with high gas concentrations to halt operations until safety examinations had been carried out, Xinhua said.
"All the facts and records in the past show quite a large part of our safety work is limited to slogans and formality," said Zheng Gongcheng, a sociology professor at the Renmin University of China.
He warns that the absence of a long-term work safety mechanism contributes a lot to the country's severe work safety situation.
"The concept of 'putting people first' should be given top priority in the industrial sector," Zheng said.
"Safeguarding workers' legitimate interests should enjoy the same importance as economic development."
He proposes the establishment of a more efficient work safety management mechanism under which the management roles of national work safety regulators and local governments should be defined more clearly.
Currently, national work safety regulators and local governments share responsibility for some enterprises' production safety but their roles are blurred.
To ensure better law-enforcement, he says, both owners and managers of the accident-related enterprises and local government leaders should be held accountable for the accident.
Also, post-accident investigations must be carried out quickly and efficiently - without corruption - to ensure anyone responsible for the accident is given due punishment, Zheng says.
Jin Lei, deputy secretary-general of the Chinese Association for Disaster Prevention, says more fundamental work should be done to promote safety culture throughout society.
A stronger consciousness of safety among Chinese citizens will help mobilize more social resources to do safety work in a more positive and efficient way, he said.
Today's Top News
Top China News

China's mining sector sounds the alarm




11 people jailed for lottery fraud




Modified rice at least a year away




Putin strongly opposes new Ukraine runoff




EU urged to lift arms embargo on China




65 people missing in Guizhou landslide