World response muted to Rwanda-Congo war
(Agencies)
Updated: 2004-12-03 11:34
Smaller but mightier than its neighbors, Rwanda's greatest clout may come from its nightmare past: a widespread sense around the world that the country was largely abandoned in 1994 to face Hutu extremists who slaughtered more than a half-million people.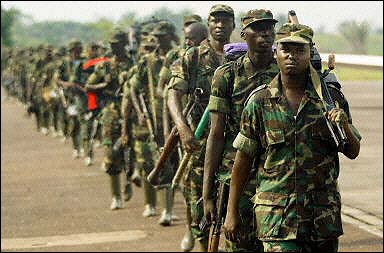 Rwandan troops leave the Democratic Republic of Congo (DRC) town of Kindu in 2002. Rwanda formally denied having deployed in the DRC and said it was not an enemy of the neighbouring country. [AFP]


Concluding that only action can safeguard its people, Rwanda is now threatening to invade neighboring Congo for a third time ! if it hasn't already ! in pursuit of the last remaining culprits from that genocide.

As of Thursday, the world response has been muted. Some believe guilt over the inaction in 1994 likewise stifled international objections when Rwanda invaded Congo in 1996 and 1998 ! the latter sparking a devastating six-nation war.

In 1998, Rwandan and Ugandan forces seized and held much of north and east Congo on the grounds that rebel groups there threatened regional security. Zimbabwe, Angola and Namibia sent forces on behalf of Congo's government.

The war stalemated, with all sides plundering Congo's mineral wealth, until international pressure forced out the foreign armies in 2002.

On Thursday, U.N. officials cited growing suspicions that Rwandan forces may have re-entered Congo. U.N. ground and air patrols photographed recently occupied encampments and unidentified, well-equipped troops. U.N. observers said they encountered what they believed to be 100 Rwandan troops at a town inside Congo ! before the suspected troops retreated to Rwanda.

U.N. Secretary-General Kofi Annan and the Security Council urged Rwanda Thursday to refrain from any military action in Congo. The comments came after the council held a closed-door briefing on the situation.

Rwanda on Thursday denied any incursions, but reserved the right to pursue the estimated 8,000-10,000 Rwandan Hutu rebels still sheltering in east Congo. And Rwandan President Paul Kagame, in a letter made public this week, wrote U.N. and African leaders on Nov. 25 that he hoped to have any new operation in Congo end within 14 days.

A key issue: Congo's lawless east contains not only numerous armed groups ! but also fortunes in diamonds, gold, cobalt, copper and timber.

If Rwanda doesn't act, its leaders say, it risks nothing less than renewed genocidal attacks.

Congo fears a renewed Rwandan occupation of its east, where most of the country's estimated 3.2 million war victims died, most civilians claimed by disease and famine.

The key question is how much of a genuine threat the Rwandan Hutu rebels hiding in east Congo's forested, volcanic hills still pose to Rwanda and its military ! widely respected as tough and, by African standards, well-disciplined and well-equipped.

Kagame, in an interview with The Associated Press last week, said the rebels had launched cross-border attacks since his army officially withdrew. When Rwanda controlled east Congo during the war, Kagame said, it blocked all such efforts.

U.N. officials in the area could confirm no new attacks. Congo claims the threat is a fiction, born of Rwandan feelings of entitlement toward its neighbor's riches.

The timing may be significant: It comes as Congo moves toward 2005 elections in which Rwanda's allies there ! former rebels deeply resented as allies of foreign occupiers ! are expected to fare poorly. They, and Rwanda, would see their influence erode.

The United Nations and other world leaders have been cautious about confirming any new Rwandan incursion. That would mean acknowledging Rwanda has violated peace deals and forcing a decision on whether to cut off aid ! one of the crucial levers that dislodged Rwanda's army from Congo.

Patricia Tome, the U.N. Congo mission spokeswoman, called mission officials "astonished" at the timing of Rwanda's renewed claim of a severe threat from Rwandan Hutu rebels.

She said Congo's army and a U.N. force growing to 16,000 were now in a position to step up a 5-month-old disarmament campaign against the Rwandan Hutu rebels.

In his letter, Kagame said Rwanda has "patiently awaited the reaction of the international community ... for 10 years now," and that the Rwandan Hutu threat now was "unacceptable and urgent."




Today's Top News
Top World News

China's mining sector sounds the alarm




11 people jailed for Xi'an lottery fraud




Official: Airbus deal not linked to arms ban




Modified rice at least a year away




Putin strongly opposes new Ukraine runoff




65 people missing in Guizhou landslide