Sharon vows to save government, Gaza pullout
(Agencies)
Updated: 2004-12-03 10:22
Israeli Prime Minister Ariel Sharon, his government in ruins, vowed on Thursday to rebuild it by recruiting the Labour Party to stave off snap elections and carry out his Gaza withdrawal plan on schedule in 2005.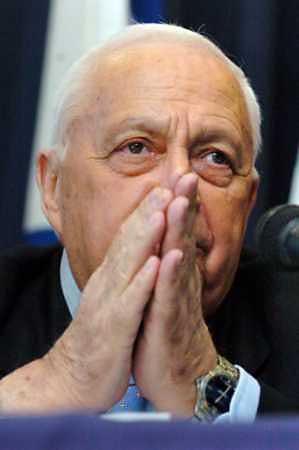 Israeli Prime Minister Ariel Sharon speaks during a press conference in Tel Aviv on December 2, 2004. Sharon vowed to rebuild his ruined government via a 'unity' coalition with the Labour Party able to carry out his plan to withdraw from occupied Gaza on schedule in 2005. [Reuters]


Palestinian politics were also in turmoil, dampening hopes for peacemaking with Israel after Yasser Arafat's death, with jailed grassroots leader Marwan Barghouthi's decision to run for president upsetting the campaign of moderate Mahmoud Abbas.

Leaders of the dominant Palestinian faction Fatah, for which Barghouthi served as West Bank chief before Israel arrested him in 2002, condemned his move as divisive.

The United States also expressed concern. "We see his candidacy as problematic," a State Department official said. "You have to wonder how somebody sitting in a jail cell could run the Palestinian Authority or make the commitments in the road map (peace plan)."

Abbas has criticized an armed Palestinian revolt as a mistake and wants to curb violence to launch statehood talks with Israel. If he crashed to election defeat, U.S.-led efforts to kickstart a frozen peace process could prove fruitless.

Amid the threat of Barghouthi's candidacy, Abbas met Hamas leaders in Gaza City, who suggested they were ready to discuss a truce in attacks on Israel if Israel put a halt to military raids to permit a smooth Jan. 9 election.

"If the Israelis stop their aggression against the Palestinian people, I think that through negotiations we are going to discuss this issue (of a cease-fire)," Mahmud al-Zahar, a Hamas leader in Gaza, told reporters after meeting Abbas.

Sharon, whose unruly coalition unravelled when he threw out his junior partner for voting against the 2005 budget in parliament, emerged unbowed with a pledge to persevere with the U.S.-backed Gaza pullout and avoid snap elections that would derail the plan.

"I have no choice but to attempt to broaden the coalition with Labour (and) religious parties," he said.

POLITICAL DISORDER

Sharon is walking a political tightrope since sacking the Shinui party ministers, leaving Likud in control of only 40 of parliament's 120 seats.

He may face his first test on Monday with a no-confidence motion in parliament over the economy. Sharon would likely survive with Labour's support, but the vote could highlight his vulnerability and the threat of an early national election.

Before starting talks to bring Labour into a unity coalition, Sharon must reverse a Likud party decision of last summer to stop negotiations with the centrist party.

Sharon told party activists he would convene Likud activists next Thursday to authorize talks with Labour.

Dovish Labour leader Shimon Peres favors a grand coalition to achieve "disengagement" from conflict with Palestinians. But many Labourites reject social service cuts in the 2005 budget and may demand changes.

In Washington, a Bush administration official was optimistic Sharon could form a new government.

The entry of popular uprising leader Barghouthi -- serving five life sentences in an Israeli jail -- into the Palestinian election race overturned expectations of sure victory by Abbas.

Fatah leaders called Barghouthi's move irresponsible as it could sow chaos in an election already dogged by militant threats of a boycott. Islamic Jihad joined Hamas on Thursday in urging supporters not to cast ballots.

"We hope he will reconsider so we can preserve the unity of Fatah and our people," Nabil Abu Rdainah, who was Arafat's top adviser, told reporters. A spokesman for armed Fatah militants said Barghouthi's decision caused "pain in the heart."

But to many younger Palestinians, Abbas, 69, represents a Fatah old guard seen as autocratic and ineffectual, and lacks the charisma of Barghouthi, 45. They demand democratic reforms with more power for Barghouthi's generation.




Today's Top News
Top World News

Government rules out forming new energy ministry




Modified rice at least a year away




Putin strongly opposes new Ukraine runoff




EU urged to lift arms embargo on China




Central bank allows more RMB out of border




Bush adamant on Iraq election schedule