Bush names new head of homeland security
(Agencies)
Updated: 2004-12-03 10:02
US President Bush has chosen former New York police commissioner Bernard Kerik, who helped direct the emergency response to the Sept. 11 terrorist strikes against the Twin Towers, to lead the Homeland Security Department, charged with safeguarding Americans from future attack, administration officials said Thursday.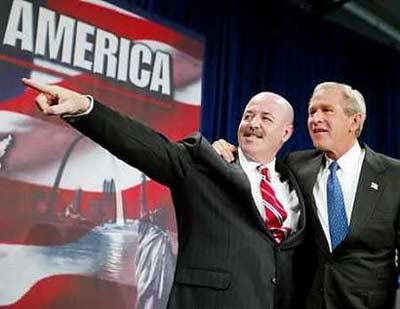 US President George W. Bush has picked former New York City police commissioner Bernard Kerik (L) as his homeland security secretary and an announcement is expected as early as Friday, Republican officials said on December 2, 2004. Kerik gained national attention during the Sept. 11, 2001, attacks in New York City and has been a strong Bush supporter. Kerik campaigns with Bush in Marlton, NJ in this October 18 file photo. [Reuters]
Bush also announced his choice of Nebraska Gov. Mike Johanns to be agriculture secretary, selecting a dairy farmer's son who has traveled widely to promote American farm sales abroad.
In a third development, U.N. Ambassador John Danforth submitted his resignation after holding the job for less than six months. He had been mentioned as a candidate for secretary of state, a job Bush gave to National Security Adviser Condoleezza Rice.
The flurry of moves came as Bush reshaped his team for his second term in office. Seven members of the 15-member Cabinet have submitted their resignations; Health and Human Services Secretary Tommy Thompson also appears to be preparing to leave.
Kerik inherits a sprawling bureaucracy from Homeland Security Secretary Tom Ridge, who resigned last month. The creation of the department in 2003 combined 22 disparate federal agencies with more than 180,000 employees. The organization is still learning to work together and faces criticism over aspects from the coordination of finances to computer systems. Bush initially opposed the creation of the department but changed his position as its support on Capitol Hill grew.
Kerik's first anti-terrorism work was as a paid private security worker in Saudi Arabia. He joined the New York Police Department in 1986, first walking a beat in Times Square. He eventually was tapped to lead the city's Corrections Department and was appointed commissioner in 2000.
It was in that position that the mustachioed law enforcement chief became known to the rest of the country, supervising the NYPD's response to the 2001 terror attacks, often at the side of then-mayor Rudolph Giuliani. In 2003, he took on a temporary assignment in Iraq to help rebuild the country's police force. Most recently, he has been a consultant for Giuliani Partners, working to rebuild Baghdad's police force.
Danforth, 68, a Republican former Missouri senator, has been tapped by presidents of both parties as a troubleshooter. He led a Clinton-era investigation of the Waco Branch Davidian affair, and Bush named him special envoy for peace in Sudan. Danforth, who plans to retire, took over at the United Nations when Bush's first ambassador, John Negroponte, was named ambassador to Iraq.
Danforth sent the president a letter Nov. 22, saying that on Jan. 20, it was his intention to retire to his home in St. Louis.
He also said he would continue to be available for short-term projects but intended to spend time with his wife, Sally, said his spokesman, Richard Grenell. Danforth received a reply from Bush on Nov. 27, though Grenell would not disclose its contents.
If confirmed by the Senate, Johanns, a two-term Republican governor in Nebraska, will replace Ann Veneman at the Agriculture Department. Johanns, 54, who has led delegations of Nebraska's farm and business leaders on trade missions to Japan, China, Singapore and a half-dozen other countries, has taken a leading role in drought relief in the Midwest and has supporter ethanol, biodiesel and other alternative sources of energy, Bush said.
"As a son of Iowa dairy farmers, he grew up close to the land," Bush said in announcing his pick for agriculture secretary in the Roosevelt Room. "I know firsthand his deep commitment to a strong farm economy."
Bush's selection of Johanns to oversee 113,000 employees at the Agriculture Department caused a stir in Nebraska politics.
Johanns was expected to run in 2006 against Democratic Sen. Ben Nelson, who is on the Senate Agriculture Committee and had been mentioned as a possible candidate for agriculture secretary.
Nelson praised Bush's selection, saying that "the person who will administer the farm bill and build for the future of agriculture in America needs to be somebody with Midwestern agricultural experience."
Johanns was a Democrat when he was elected in 1982 to a county board of commissioners, which he left five years later and became a Republican in 1988. He became major of Lincoln, Neb., in 1991, won election as governor in 1988 and a second term in 2002. He was the first Republican to win re-election in more than four decades.
"In my campaign for governor, we ran a radio ad and it said, `After growing up on a dairy farm, the son of John and Adeline Johanns, everything in life has seemed easy after that,'" Johanns said.
Today's Top News
Top World News

Government rules out forming new energy ministry




Modified rice at least a year away




Putin strongly opposes new Ukraine runoff




EU urged to lift arms embargo on China




Central bank allows more RMB out of border




Bush adamant on Iraq election schedule