Putin strongly opposes new Ukraine runoff
(Agencies)
Updated: 2004-12-03 08:15
Russian President Vladimir Putin injected himself directly into the election crisis in this former Soviet republic Thursday, strongly attacking the opposition's central demand for a new presidential runoff and cautioning the West against getting too involved.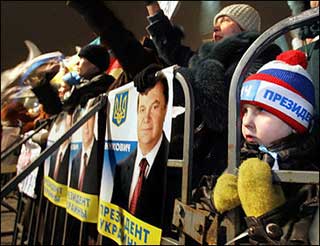 A boy looks through a barrier while supporters of Ukraine's Premier and presidential candidate Viktor Yanukovich wave flags and shout during a rally in Donetsk, the center of the powerful Russian-speaking eastern region. [AFP]

Putin made his comments while meeting with Ukrainian President Leonid Kuchma at an airport outside Moscow, as tens of thousands of opposition supporters waving Ukrainian flags and wearing orange armbands, sweaters and scarves rallied for the 11th straight day in Kiev's Independence Square.

The protesters, awaiting a Supreme Court ruling on whether to throw out the results of the disputed election, listened to rock bands and watched large-screen televisions broadcasting the court sessions.

They erected a Christmas tree ! also bright orange, which is the emblematic color of their movement ! in the tent camp they have maintained since shortly after the Nov. 21 runoff. Protesters kept up their blockade of the Cabinet building, banging on drums improvised from metal canisters, the sound echoing off the walls of the imposing Stalin-era building.

Putin issued a warning to the West.

"Neither Russia, nor the European Union, nor international organizations will solve the problems," he said. "They all can play the role of mediators, but the Ukrainian people have the last word."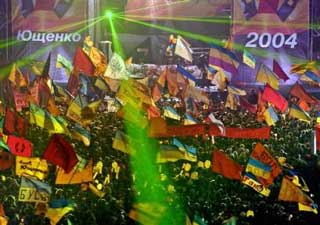 Supporters of opposition presidential candidate Viktor Yushchenko gather at the Independent square in downtown, Kiev, Ukraine, Thursday, Dec. 2, 2004. Opposition presidential candidate Viktor Yushchenko scores a landmark victory with his allies in parliament voting down his rival's Cabinet, while visiting European mediators try to broker a compromise. [AP]

European Union foreign policy chief Javier Solana and Polish President Aleksander Kwasniewski mediated talks Wednesday between the two candidates in the bitter runoff.

Following Putin's remarks, US President Bush issued a warning that appeared to be directed at Russia. If there is to be a new election, it "ought to be free from any foreign influence," Bush said in comments that were considered more forceful than those he has made in the past.

Putin had openly supported Prime Minister Viktor Yanukovych in the election. The Kremlin fears that a victory by opposition leader Viktor Yushchenko, who favors closer ties with the West, could drag this country of 48 million out of Moscow's orbit and generate pressure for greater democracy in Russia.

The Supreme Court is considering an appeal by Yushchenko's campaign to invalidate the result of the runoff, which the Central Election Commission said Yanukovych won by about 900,000 votes. The appeal centers on claims of widespread violations across the prime minister's strongholds in the east and south, near Russia.

The 18 red-robed justices began hearing final arguments but adjourned hours after dark without a decision.

If the court sides with Yushchenko, it would put him in a strong negotiating position with Kuchma to schedule a repeat runoff. If the court rules against Yushchenko's appeal, Kuchma's administration might seek to inaugurate Yanukovych or schedule new elections with a more attractive candidate.

As the court edged toward a ruling, Kuchma flew to Russia and won Putin's support for his proposal to hold an entirely new election ! not just a repeat of the runoff.

"A revote could be conducted a third, a fourth, a 25th time, until one side gets the results it needs," a grim-faced Putin said in televised comments from the meeting in a sparsely decorated, parquet-floored room at the government's Vnukovo-2 airport before leaving for India. He said another runoff would likely "yield nothing."

Kuchma derided the idea of rehashing the runoff, saying that "I don't know a single country that has such a legal norm as a revote."

Yushchenko criticized Kuchma's trip to Russia, saying "the source of power is located in Ukraine ! it's the Ukrainian people."

Yushchenko pressed his position in an address to supporters after the court adjourned, saying he would not take part in any negotiations on settling the crisis if they included talks on starting an election from scratch.

"If a revote date isn't set quickly after the Supreme Court's ruling, we will take adequate steps against the government," Yushchenko said.

Kuchma appears to hope a new election would enable him to field a more popular successor as his government scrambles to stay in power with his 10 years in office running out.

Ukrainian media have frequently tipped Yanukovych's former campaign chief, Serhiy Tyhypko, as the most likely choice. Tyhypko, a young and charismatic politician, might fare better against Yushchenko than Yanukovych, whom Kuchma picked to run last spring in hopes that his prominence and publicity as prime minister would attract votes.

The leaders of France and Germany called for a new election in Ukraine ! but didn't say what kind ! while the European Parliament said the runoff should be repeated.

Russia and the West have traded accusations of meddling in Ukraine's vote, and Putin's meeting with Kuchma could revive the ire he raised in Europe and the United States, which have refused to accept the runoff results, by congratulating Yanukovych with a victory before the official outcome was announced, ignoring reports of widespread fraud.

Ukraine is divided roughly between Yanukovych supporters in the east who favor close Russian ties and Yushchenko backers in the west, wary of Moscow's centuries-old clout in the country and seeking closer relations with Europe.

International mediators brought the two candidates and Kuchma together Wednesday for compromise talks, which yielded an agreement by all sides to honor the Supreme Court's decision.

But a promise by Yushchenko to ask his supporters to end their siege of official buildings went unfulfilled.

"People here on the square aren't going to unblock anything," fiery Yushchenko ally Yulia Tymoshenko told a news conference. "No politicians could prompt them to do that."

At the tent camp, 28-year-old Serhiy Lebid said, "We will stay here until Yushchenko says we can go home, no matter how long it would take."





Today's Top News
Top World News

Government rules out forming new energy ministry




Modified rice at least a year away




First greenhouse emissions deal inked




EU urged to lift embargo




Central bank allows more RMB out of border




China smoking dramatically dropped: Survey