Cold wave brings about flurry days
(China Daily)
Updated: 2004-12-02 00:39
Fog continued to cover North China, Northeast China, most regions of the southern areas of the Yangtze River and parts of Southwest China yesterday.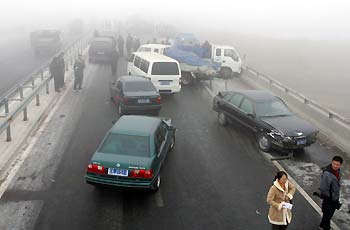 Twenty cars in a pile-up caused by heavy fog on the No.102 highway yesterday morning in Northeast China's Liaoning Province. No one was injured in the accident. [newsphoto]

The fog might weaken or fade away today, with the coming of a cold wave that will bring snow and wind, according to forecast from the China Central Meteorological Observatory.

Beijing Meteorological Observatory forecasted that sleet could fall in the capital city last night and through today.

The fog is expected to be driven away by a cold wave that is forecasted to arrive in Beijing tonight.

Xie Shaodong, an expert with the department of environmental science of Peking University, suggested people stay indoors.

He also said people should avoid driving cars, because emissions from them could worsen the already-bad air quality.

The foggy weather is harmful to the respiratory system, he said.

The fog limited visibility to 100 metres in urban areas of Beijing. In some regions, the visibility was only 10 metres.

The Beijing Meteorological Observatory issued a warning for heavy fog early on Wednesday. It was the first time since Beijing launched its warning system for sudden accidental weather in July.

The fog which started Tuesday affected air traffic the most.

At the Beijing Capital International Airport, the fog caused the longest delays in recent years, said Xinhua News Agency.

On Wednesday, more than 500 fights were delayed.

The serious situation continued yesterday.

Both Wednesday and yesterday saw about 10,000 passengers kept at the airport daily, the report said.

Zhang Zhantao with the airport told Xinhua that passengers have remained calm despite the delay.

In addition, Zhang said the airport has asked people through the radio to take trains instead of planes if they travel.

Xinhua said in the past several days, people leaving Beijing by train have numbered more than 100,000 daily, while the normal figure stands at 80,000.

The foggy weather has also led to many traffic accidents and several expressways being shut down around Beijing.

Between Tuesday night and early Wednesday, five expressways in the capital were shut down due to low visibility.

In only one hour from 7 am to 8 am on Wednesday, 200 traffic accidents were reported to Beijing traffic police.

At 1:30 am on Wednesday, a car rushed into a truck at Miyun in Beijing, causing the car driver die immediately.




Today's Top News
Top China News

Government rules out forming new energy ministry




Modified rice at least a year away




Putin strongly opposes new Ukraine runoff




EU urged to lift arms embargo on China




65 people missing in Guizhou landslide




Central bank allows more RMB out of border