Central bank allows more RMB out of border
By Zhang Dingmin (China Daily)
Updated: 2004-12-02 00:39
China's central bank announced on Thursday it will allow travellers to take up to 20,000 yuan (US$2,400) of local currency out of the country.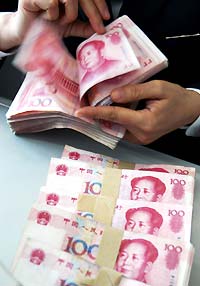 The last time the nation raised the limit on renminbi's cross-border flow was 1993, when the ceiling was set at 6,000 yuan (US$720).
The new rule comes into effect next month.
During the past 10 years, China's economy grew rapidly, consumption levels among local residents improved continuously, and economic ties with foreign countries broadened significantly.
That, coupled with the stability in the renminbi's exchange rate, has amplified the demand for the Chinese currency in neighbouring countries and regions, a spokesman from the People's Bank of China (PBOC) said.
"It is necessary to adjust the limit on taking renminbi across borders," he said.
"We view this move as a positive, albeit small, step forward in the process of removing foreign exchange controls and opening-up the economy," said Liang Hong, China economist at Goldman Sachs (Asia).
"Besides Chinese consumers, the main beneficiaries of this policy change will include Hong Kong and Macao consumer related industries, including banks, as Chinese tourists visiting these economies will be able to legally bring more cash to spend," she added.
China's sustained and rapid economic growth in recent years has raised the publicity of its currency in neighbouring nations and regions, making it a major settlement currency for border trade with nations like Russia, the Republic of Mongolia and Viet Nam.
And only the new ceiling can meet the overseas spending needs of the majority of increasingly wealthy Chinese travellers, the PBOC spokesman said, adding that average spending by local residents more than tripled since 1993.
Economists largely ruled out possibilities that the move is aimed at reducing the persistent upward pressure on renminbi, or any attempt to promote the regionalization or internationalization of the local currency.
"Policy changes to allow easier currency outflows will have limited, if any, impact towards easing the Chinese yuan appreciation pressures at the present," Liang said.
"The purpose is to meet the needs of local residents and economic exchanges within the region," said Qin Chijiang, a professor with the Central University of Finance and Economics. "I don't think there is any special political motive."
Qin underlined the need to build bilateral mechanisms with neighbouring countries and regions to channel the renminbi back to China.
The PBOC spokesman said there is only a tiny possibility that the loosening will have any negative impact on the Chinese economy, citing the small share of overseas-circulating renminbi in the total money supply and the arrangements with Hong Kong, Macao and some neighbouring countries on flowing the renminbi back home.
#
Today's Top News
Top China News

Government rules out forming new energy ministry




Modified rice at least a year away




Putin strongly opposes new Ukraine runoff




EU urged to lift arms embargo on China




65 people missing in Guizhou landslide




Central bank allows more RMB out of border