China smoking dramatically dropped: Survey
(Xinhua)
Updated: 2004-12-02 21:42
A survey released Thursday said the smoking rate in China has dropped significantly over the past decade.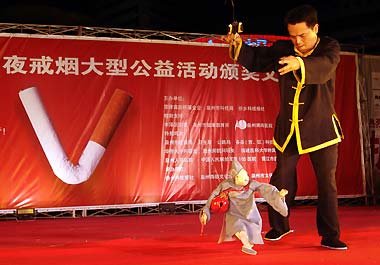 An artist puts on a puppet performance during an anti-smoking gathering in Quanzhou of Southeast China's Fujian Province on November 5, 2004. [newsphoto]

The smoking rate among Chinese 15-years-old and above decreased from 32 percent in 1993 to 26 percent in 2003, the survey said.

Among the surveyed population, 48.9 percent of men smoked and 3. 2 percent of women. The smoking rate of men was lower in urban areas than in rural areas. But among women the rate was higher in cities.

However, the survey showed that despite fact that fewer people smoke in China, the number of heavy smokers and quantity of cigarettes smoked has increased.

"This may explain why tobacco sales in China remain unreduced," the survey said.

In addition, the survey said the rate of frequent alcohol drinkers in China also dropped sharply over the past ten years.

"Among those aged 15 years old and above, 79.5 percent have never drunk or hardly drunk alcohol. About 12.3 percent drink alcohol occasionally and 8.2 percent drink alcohol frequently," it said.

The survey was conducted during September and October of 2003 and covered 57,000 households, according to the Health Ministry.




Today's Top News
Top China News

Government rules out forming new energy ministry




Modified rice at least a year away




Putin strongly opposes new Ukraine runoff




EU urged to lift arms embargo on China




Central bank allows more RMB out of border




Bush adamant on Iraq election schedule